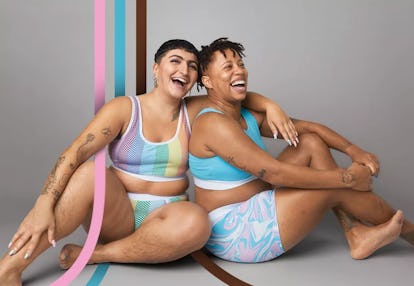 The effort to propagandize the public into becoming gender dysmorphic or believing born in the wrong body continues to ramp up as woke corporations in tandem with the Biden administration push a transhuman agenda.
Ahead of Pride month, Target is launching a line of "gender-affirming" products including "compression tops" and "chest binders, undergarments that conceal breasts, and "packing underwear" that conceal male genitals.
The superstore has partnered with TomboyX and Humankind — "two queer owned, female-female founded brands — to create these much-needed lines," Bustle reports.
"Target reps have confirmed that this collection marks the first time the retailer has stocked compression tops in stores — a huge move for queer youth who don't have access to gender-affirming products," the publication notes.
TomboyX's compression top which is now being sold at Target is "a more comfortable alternative to the traditional binder" and "offers a more snug way to minimize your chest," the company notes on its site.
Target's pride-themed, "gender-inclusive swimwear" designed by Humankind is "made for multiple body types" and "is perfectly minimal and inclusive of every gender, giving all the ability 'to wear what suits you,'" the corporation notes.
Humankind teamed up with GLSEN, an education organization that pushes gender identity and LGBTQ curriculum to schools across the United States, to design the "unisuit."
"Make beach time more fun by putting your Pride on display wearing the Pride Adult Humankind x Target Unisuit," Target notes in the description of the swimsuit. "It comes in a high neck design with short sleeves and Pride-inspired rainbow stripes along the shoulders, making it easy to show your support for the LGBTQIA+ community."
Target is also now selling "trans rights" t-shirts for children.
As woke corporations promote "gender inclusivity," the number of children undergoing transgender procedures has spiked by 4000 percent in the United States and the United Kingdom over the past decade, according to a recent study published by the American Academy of Pediatrics.
Dear Reader - The enemies of freedom are choking off the Gateway Pundit from the resources we need to bring you the truth.
Since many asked for it, we now have a way for you to support The Gateway Pundit directly - and get ad-reduced access.
Plus, there are goodies like a special Gateway Pundit coffee mug for supporters at a higher level.
You can see all the options by clicking here - thank you for your support!