Arizona Republican Rep. Jake Hoffman is urging the public to pressure lawmakers to advance HB 2495, a bill aimed at barring public schools from indoctrinating and grooming students with "sexually explicit materials" at taxpayer expense.
Hoffman crafted the measure after discovering books and other materials at school laden with sexual activity. Arizona congressman even uncovered drawings of children having sex or masturbating.
HB 2495 would ban schools from disseminating any materials that depict "sexual conduct" including "acts of masturbation, homosexuality (and) sexual intercourse."
While the measure exempts "classical literature" and "early American literature," it requires parents to provide approval allowing their children to read the materials that contain sexually explicit content.
Hoffman issued a statement calling on Americans to "HELP STOP SEXUAL GROOMING IN ARIZONA SCHOOLS" by sending an email "to every member of the Arizona Senate in less than 60 seconds" via the website Align Act.
"Hofstra University researcher Charol Shakeshaft studied the prevalence of sexual abuse in the public school system. Here is what she found: "The physical sexual abuse of students in schools is likely more than 100 times the abuse by priests,'" the Arizona congressman warned. "WE CANNOT ALLOW THE SEXUALIZATION AND SEXUAL GROOMING OF ARIZONA CHILDREN."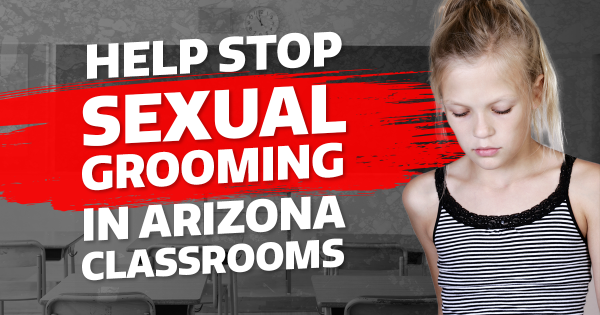 The legislation is currently awaiting a vote by Arizona Senate. It would then head to Arizona Gov. Doug Ducey for his signature.
Democrats and LBGTQ activists are lobbying to scrap  HB 2495 arguing that the bill prohibits teachers from promoting homosexuality as a positive lifestyle.
"What this bill does is once again try and erase the LGBTQ community from Arizona public schools under the guise of protecting children," Rep. Daniel Herandez, D-Tucson warned in a scathing rebuke of the measure on Tuesday. "Children keep getting used as footballs for politics.
https://twitter.com/AshleyJ89278053/status/1511376250853502978?s=20&t=Y0C1r6Fpan84EVb7EE333g
"This is not an issue of homosexuality," Hoffman shot back. "This is an issue of should sexually explicit materials which have been well documented in terms of medical science has an adverse effect on children, and whether or not it should be shown in K-12 classrooms."
Controversy surrounding HB 2495 comes amid a concentrated effort from the Biden administration to promote transgenderism in the classrooms.
Biden Urges Parents To 'Affirm Your Child's Transgender Identity' (VIDEO)
"I want you to know that your President sees you –Joe, Kamala, Doug, our entire administration — sees you for who you are … deserving of dignity, respect, and support. But we know it's hard when there are those out there who don't see you, don't respect you," the illegitimate president declared in commemorating his administration's "Transgender Day of Visibility" last week.
"We're committed to advancing transgender equality in the classroom, in the playing field, at work, in our military in our housing and health care systems — everywhere. Simply everywhere," Biden said.