"…It is the duty of every true Muslim to condemn these atrocities and root out those among them who preach and practise such hatred and bitterness. Muslims will do this not just because of their faith, but because it is the duty of us all to respect and uphold the law."
Prince Charles, July 13, 2005
Schizophrenic Elvis Presley fan Ejaz Fiaz is now understood to have been the fourth man to take part in the terrorist attack on the capital!

Hasib Hussain was the suicide terrorist who blew himself up on the double decker bus during the attacks.
MOBILE PHONE FOOTAGE FROM LONDON EYEWITNESSES AFTER THE BOMBINGS,
VIDEO HERE
It was the mother's phone call that helped break the London bombings case!
The bombers were membrs of the London Paskistani communitiy. Around 675,000 people of Pakistani origin live in Britain, more than half of the country's South Asian-origin population.
* Europe will remember the bombers today with a moment of silence. *
Police are looking for a fifth man who met the others at a Luton railway station the morning of the bombings… And, there may have been a sixth man who ckickened out!
* France Restores border controls. *
The London Tube bombers were born in England.


Mohammed Sadique Khan and his wife are expecting their second child soon. He was a popular teacher in Leeds.
Mohammed Sadique Khan married for love, had a harmonious marriage, and almost never argued. His wife is expecting their second child:

Mohammed Sadique Khan married for love. He had an eight month old daughter.
Mohammed Sadique Khan had married for love. Flouting the cultural conventions of his community, he rejected an arranged marriage. Instead, the 30-year-old learning assistant and mentor married Hasina, the girl he met and fell in love with while studying at Leeds University.
His parents were from Pakistan, hers from Gujarat in India. But despite the differences, they married four years ago and only a few months ago set up home close to Hasina's widowed mother in a council housing estate in Dewsbury, away from Khan's normal stamping ground close to where he was born in a run- down part of south Leeds.
The couple already had an eight-month-old daughter. Hasina was pregnant with their second child. She was excited and looking forward to the birth.
But unknown to her, her husband had chosen to take a path that would mean he would never see his second baby born.
Last week, he closed the door on the family home and left the immaculate gardens of Lees Holm for the last time.
He chose to end his life in the inferno of a Circle line Tube train after detonating his rucksack bomb in a tunnel near Edgware Road station. Seven people died with him, 100 were wounded, at least 10 of them with injuries so serious they will be permanently maimed.
Mohammed Sadique Khan was popular with the children he worked with.

Hasib Hussain (at age 10 in the picture and the tallest in his class) was the bomber of bus 30.
Hasib Hussain was a quiet boy. He liked to play football:
Hussain was to become one of Britain's first home-grown suicide bombers at the age of 18. One week ago yesterday, he told his mother he was going to London with friends for the night. Once there, he boarded a No 30 bus and detonated the last of the four bombs that shook the capital.
Hussain, Shazhad and Mohammed Khan met at the district's Stratford Street mosque. It is increasingly likely that the fourth bomber went there as well to exchange ideas with the friends. They disguised their murderous intent under the cloak of a popular and vibrant community, hidden amid the thousands of Muslims from south Leeds who come here to attend the area's three mosques and the popular Asian shops.
Acquaintances said Hussain was once as passionate about football as he was about cricket. He was a member of the Holbeck Hornets football team, belonged to a local cricket team and was often seen playing in his whites.

Customers leave the fish and chips restaurant owned by the father of one of the bombers, Shahzad Tanweer.
The third bomber, Shahzad Tanweer, a bright sports science graduate, seemed to have his life planned. He was proud to be British.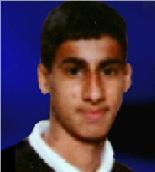 Shahzad Tanweer was a normal boy. His parents were glad that he did not hang out in the pub but went to the mosque instead.
SHAHZAD'S UNCLE SAYS HIS FAMILY IS IN SHOCK, VIDEO HERE
He was "proud to be British" according to his uncle, Bashir Ahmad, and planned a career in sport. Yet the youngster's life went unthinkably wrong. The promising young man died in a suicide attack on the London Underground, along with the seven commuters he murdered at Aldgate last week. He was 22.
His father, Mumtaz, was delighted his son had not gone off the rails, according to Mr Ahmad. "He was very pleased because at an age when he could have been going down to the pub, he was regularly visiting the mosque and studying," said Mr Ahmad.
The Mastermind behind the bombings is on the lam.
The bombings will cost the UK up to £3billion – an effect on the economy comparable to a natural disaster or deadly virus outbreak.
More news is coming out from the investigation:
Police are also investigating two brothers originally from Leeds, where most of the bombers grew up.
One is thought to have been the bomber who died in the blast near King's Cross Station. He was named today by former neighbours as Ejaz Fiaz, thought to be 33, and a former Leeds resident now living in Luton. The other was today being questioned by police, who were last night given an extra 36 hours to quiz him.
Police are also searching for an Egyptian chemistry student who may also have provided help.
Magdi El-Nashar, a 33-year-old PhD biology student, is thought to have handed over his flat in the Leeds suburb of Burley to the gang – possibly to the fifth man.
** Magdi El-Nashar is now said to be the mastermind behind the bombings. **
I am also hearing about a Jamaican-born resident of Britain, Lindsey Germaine, who is being identified as one of the bombers.