Update: (Thursday AM) Sean Penn to Irani journalists about the "Death to America" chants he witnessed at a mosque on Friday,
"I understand the nature of where it comes from and what its intention is," he said. "But I don't think it's productive because I think the message goes to the American people and it is interpreted very literally."
The San Francisco Chronicle's "Man in Tehran"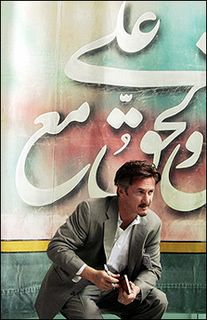 Reporter Sean Penn on assignment in Tehran. On Sunday Sean interviewed the "Let's Nuke Israel" cleric.
In December 2002, Sean Penn joined the Global Exchange's Medea Benjamin on a "solidarity visit" to Baghdad to protest the pending war. Ms. Benjamin is a founder of Code Pink, an organization that in March disrupted the Senate hearings for John Bolton and has raised money for the victims of America's campaign against fighters in Fallujah (see "No Blood for Broccoli").
This historic Iraqi visit must have impressed one San Francisco paper. Because, after reviewing Sean Penn's resume of one quarter of auto mechanics and speech and coddling dictators, the San Franciso Chronicle decided that Sean would be "Their Man in Tehran" for the upcoming elections.
Sean joins more than 280 foreign journalists in covering the elections this Friday:
More than 70 foreign journalists have arrived in Tehran till Sunday to cover the 9th presidential election slated for June 17.
The Foreign Press Department at the Ministry of Culture and Islamic Guidance had already announced that over 280 foreign reporters had asked to visit Iran to cover the election.
At present, representatives from more than 100 foreign media and press are in the country to cover the news of Iran's 9th presidential election.
Sean is enjoying his new role of journalist (no news yet if he actually has written anything, or if he can write above a 6th grade level) and attended his first Iranian Mosque Service on Friday:
Hollywood actor Sean Penn, warming to his occasional role as a reporter, has quizzed the top contender in Iran's presidential elections about democracy and had a brush with security agents at an illegal women's protest.
Penn, 44, on assignment for the San Francisco Chronicle ahead of presidential elections on Friday, had already caused a stir by turning up to listen to worshippers chant "Death to America" at Friday prayers in Tehran last week.
On Sunday, he tackled Shiite Muslim cleric Akbar Hashemi Rafsanjani (The Shark!), a former president who leads opinion polls, about US criticism of the Iran election after hundreds of hopefuls were barred from running by a panel of religious hardliners.
In 2001, Rafsanjani called on Muslim States to Nuke Israel (that would have been a nice lead-off question for Sean!):
One of Iran's most influential ruling cleric called Friday on the Muslim states to use nuclear weapon against Israel, assuring them that while such an attack would annihilate Israel, it would cost them "damages only".
"If a day comes when the world of Islam is duly equipped with the arms Israel has in possession, the strategy of colonialism would face a stalemate because application of an atomic bomb would not leave any thing in Israel but the same thing would just produce damages in the Muslim world", Ayatollah Ali Akbar Hashemi-Rafsanjani told the crowd at the traditional Friday prayers in Tehran.

Sean, a non-credentialed journalist, observes Friday prayer service in Iran before the "Death to America!" chants.
Also on Sunday, at a rare and spontaneous women's protest (see Publius Pundit) his camera was taken from him briefly:
Actor Sean Penn, covering the presidential election in Iran as a reporter for the San Francisco Chronicle, had his camera confiscated briefly Sunday.
Several hundred women had participated in a sit-in outside the entrance to Tehran University, demanding rights they lost following the 1979 Islamic Revolution.
Chants and taunts grew louder and police surrounded the demonstrators and pushed people who were trying to join the group. In addition, authorities cut off cell phone service in the area and challenged reporters observing the protest.
Authorities briefly seized the video camera of Penn, reported Editor & Publisher.
Meanwhile, Iran saw one of its most violent days in more than a decade, with five bombs killing at least nine and wounding dozens in the center of Tehran.
As a footnote: Sean's new movie is set to be released. In this challenging role Sean plays a deranged glory-hog who decides to assassinate a Republican president. Hmm…