RARE BOMBINGS IN AHWAZ IRAN, VIDEO HERE
Bombs go off in Ahwaz and Tehran days before the election…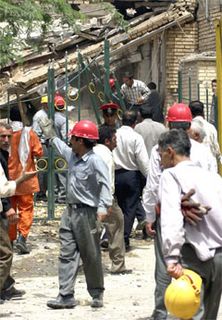 Government officials assess the bombing damage in southern Iran today.
Bombs were set off today in Ahwaz, in southern Iran, and Tehran, the capital of Iran:
Advertisement - story continues below
Five bombs have exploded in Iran killing at least nine people, days before the presidential election. Four blasts targeted public buildings in the south-western city of Ahwaz, killing at least eight people and wounding at least 30.
Hours later, a bomb exploded in the capital, Tehran, killing one person.
TRENDING: President Trump Makes Cryptic Remark at Ohio Speech: "I Have a Lot of Enemies...This May Be the Last Time You'll See Me for a While"
Bombings have been rare in Iran since the war with Iraq ended in 1988. No group has claimed responsbility for Sunday's attacks.
Ahwaz, which is close to the Iraq border, was the focus of unrest between Arabs and Persians in April, when several people were reportedly killed.
Advertisement - story continues below
It is not clear whether the bombings are connected with the earlier violence.

A soldier hurt in one of the blasts in front of the governor's home is treated in Ahwaz, Iran.
At least four women were killed in the blasts. A series of bombs detinated in succession. A fourth bomb detinated before police could defuse it injuring one officer:
At least four women were among those killed in the explosions in Ahvaz, capital of the southwestern Khuzestan province. At least two of the explosions were caused by car bombs, witnesses said.
Gholamreza Shariati, deputy provincial governor for security affairs, said the bombers were seeking to undermine public participation in Friday's presidential elections.
Advertisement - story continues below
Television pictures showed the blast sites with heavily damaged buildings and blood on the ground. The force of the explosions also damaged cars in the streets. Shariati said 36 people, including eight police officers, were injured.
After the first three blasts, disposal experts tried to defuse a fourth bomb but failed, and it exploded, injuring one officer.
Amir Hossein Motahar, director of security at the Interior Ministry, said one bomb went off in front of the Ahvaz governor's office and another next to the city's housing department.
The death toll could rise due to the seriousness of the injuries:
Advertisement - story continues below
"The victims were two employees of the budget planning organisation and six residents of the city who were outside the prefecture and housing ministry office," deputy provincial police commander General Hassan Assad Masjedi told the official news agency IRNA.
"Because of the seriousness of some of the injuries, the death toll could rise further," he added.
Robert Mayer from Publius Pundit has a shakedown on the election this week in Iran here. Robert also has some incredible pictures from a rally today by Iranian women with pictures here.
Iran Focus hs more on the Tehren blast "concealed in a dustbin" here.