The natives are restless in Iran this week.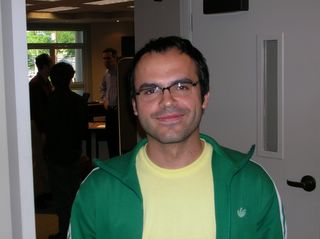 Hossein Derakhshan between sessions at BlogNashville
Hossein Derakhshan, creator of Editor Myself Blog was an attendee at BlogNashville last weekend. He is sometimes called the "Blogfather of Iran" and is responsible for being the brains behind the +75,000 blogs currently up and running in Iran. In September of last year he organized a blogger protest of his own. The BBC reported:
Hundreds of Iranian online journals have been protesting against media censorship by renaming their websites after pro-reformist newspapers and websites that have been banned or shut down by the authorities. Many of the websites, known as blogs or weblogs, have also posted news items from the banned publications on their websites.
Advertisement - story continues below
The protest was started by blogger Hossein Derakhshan, a student at Toronto university in Canada. He told the BBC that although he felt the action was symbolic, he wanted to show Iranian authorities "that they would not be able to censor the internet in the same way as they have managed to control other media".
Because of Hossein's work, students in Iran today are able to organize more effectively. A group of university students yesterday organized a sit-in at Amir Kabir University to protest against human rights violations:
TRENDING: "Look at Your Boyfriend's Face!" -Unhinged Woman Throws Coffee on Two Men for Not Wearing Masks - Boyfriend Gets His Ass Beat Bloody (VIDEO)
Students from one of the Iranian capital's main universities staged a sit-in yesterday for the first time in months to protest at human rights violations and the jailing of activists, witnesses said.
The gathering in Amir Kabir university, one of the most active centres of political dissent in the Islamic republic in recent years, totalled some 200 peaceful demonstrators amid tight security and there was no sign of violence. A statement from the Office to Consolidate Unity, the main pro-reform student group, said the rally was staged to "protest against violations of human rights and fundamental freedoms, the illegal detention of political and student activists, increased pressure on the Press (and) limited freedom of expression."
Advertisement - story continues below
Prominent dissident Ebrahim Yazdi, who heads the banned Iran Freedom Movement, ex-reformist MP Fatemeh Haghighatjou and family members of political prisoners also took part. The protestors also demanded the "immediate and unconditional release of political prisoners," including dissident journalist Akbar Ganji as well as students jailed for taking part in student unrest in 1999.

University students in Tehren during a "sit-in"(?) protest.
The students are also against the exclusion of reformist candidates in the July elections:
Iranian students some carrying placards bearing the slogan "do not kill liberty and justice" have staged sit-in protests at university campuses in Tehran against a government order excluding from university assemblies student groups and other organisations who want a boycott of the country's presidential elections. The protests were organised by the country's main student organisation, Daftar Tahkim Vahdat and included the participation of several reformist MPs who have been excluded from standing in the elections, scheduled for 17 July.