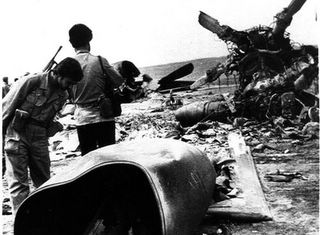 Failed Iranian Hostage Rescue Attempt in 1980.
Iran is going to display the British gunboats they took from Great Britain during Operation Iraqi Freedom last year:
Iranian state radio reported on Thursday that three gun-boats seized from British forces in June were to be put on public display.
Advertisement - story continues below
The radio said the boats – which were being delivered to the Iraqi river police – would go on show in Arvand-Kenar, in Khuzestan province.
Oh, and that's not all…
TRENDING: Garbage DC Website Known for Promoting Conspiracies Attacks Gateway Pundit After Crashing White House Press Corps Coven
…the three boats would go on display in the Imam Khomeini Prayer Hall in Tehran on May 20, marking the anniversary of the 1982 liberation of Khorramshahr from Iraqi forces.
He also said that helicopters belonging to the United States military, used in a failed operation in 1980 to rescue the 52 American hostages in the U.S. embassy in Tehran, would also be put on display at the sprawling prayer hall.
Advertisement - story continues below
Britain has demanded Tehran hand over the boats which were captured last June along with eight British servicemen in the narrow Shatt al-Arab waterway which divides south-western Iran from Iraq. The men were blindfolded and paraded on state television.
Maybe Jimmah Carter will be available for the opening!?!
Update: (5-4) Scott, from New York's Finest Blog Slantpoint, has linked to this post.