South Koreans brandish knives, air guns, fire arrows, and 'squibs' at Anti-Japanese Protest

A Korean Protester wielding a knife is restrained.
South Koreans also took to the streets this weekend to protest Japan. Japan has held a group of disputed islands from Korea since an invasion in 1910…
Advertisement - story continues below
Japan took control of Tokdo/Takeshima (the Korean and Japanese names respectively of islets between the two countries) from Korea when it colonised Korea in 1910. But since Korea's decolonialisation, Tokyo has refused to relinquish claims over the islets. The March 10 decision of Japan's Shimane Prefecture to designate February 22 as "Takeshima Day" is widely seen in Korea as a trick to legitimise Japan's claims.

A Protester fires off "squibs" as police work towards him with a fire extinguisher.
TRENDING: California to Release 18,000 Prisoners by End of August to 'Slow the Spread of COVID-19'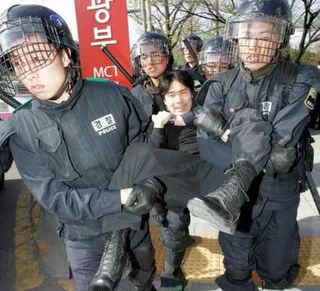 A detained South Korean demonstrator is hauled off by police.
Korea (with China) boycotts Japanese goods:
Advertisement - story continues below
Anti-Japan protests in China and South Korea appear headed toward a boycott of Japanese goods likely to harm electronics, car and beer producers. Protests have escalated in both countries in recent weeks over Japan's approval of a revised history textbook that allegedly distorts Japanese actions in World War II, as well as recent Japanese moves to assert its claim over disputed islands.
In China, two supermarket chains with more than 1,200 outlets between them have stopped selling Asahi beer and Ajinomoto food products, the Yomiuri Shimbun reported Tuesday. According to Asahi Breweries, shipments to China have fallen slightly. Some Japanese travel agencies report cancellations of trips to China.
In South Korea, a home shopping channel dropped Sony and Canon digital cameras, and Toyota reported a 30 percent drop year on year in sales of its Lexus luxury sedans in March. South Korean food company C.J. Corp. on March 29 canceled a deal with Japanese Kirin Brewery Co. to bid for Korean brewery Jinro Co.

A Korean shoots a fire arrow at the Japanes administrator's home in Korea.
Advertisement - story continues below
Demonstrators shot fire arrows at the Japanese Ambassador to South Korea Toshiyuki Takano's residence as police officials sprayed fire extinguishing agent during a rally against Japan's sovereignty claims over Dokdo islets. The islands are also known as 'Takeshima' in Japanese. The demonstration occurred in Seoul early Friday, April 15, 2005.
On Wednesday Japan offered an apology that Koea called insufficient:
Tokyo's top diplomat said Wednesday Japan feels sorry for the atrocities it committed during its colonial rule of Korea in an apparent move to ease rising tensions between the two countries.
Seoul, however, dismissed the words of contrition as "insufficient,'' calling for "concrete actions.''