As he begins his second term, Florida Governor Ron DeSantis is going after woke ideology.
The DeSantis administration sent a letter to state colleges and universities asking them to make a list of programs and activities related to critical race theory and diversity.
Advertisement - story continues below
The Governor's Office is surveying for "woke ideology" in Florida's higher education system.

TRENDING: Pentagon Refuses To Shoot Down Suspected Chinese Spy Balloon Hovering Over Montana for Days

As Gov. Ron DeSantis leans into his second term and the upcoming 2023 Legislative Session, his administration is asking state colleges and universities to compile a list of programs and campus activities relating to diversity, equity and inclusion (DEI) and critical race theory (CRT).

The Chronicle of Higher Education was the first to report Tuesday — the first day of the Republican Governor's second term — that the DeSantis administration had begun compiling a list of courses on diversity. The Governor's Press Secretary, Bryan Griffin, confirmed the report Wednesday afternoon.
Advertisement - story continues below
Here are the requests from the DeSantis administration.
-Brief description of the program or activity

-Positions, including full and partial FTE

-Total funding spent to support the initiative

-Of the total spent to support the initiative, the amount that is state funded
Advertisement - story continues below
From the letter:
As the Executive Office of the Governor prepares policy and budget proposals ahead of the 2023 Legislative Session, it is important that we have a full understanding of the operational expenses of state institutions. Governor Ron DeSantis has prioritized a cost-effective higher education system that delivers high quality service to Floridians to best prepare them for employment. Additionally, state law requires dutiful attention to curriculum content at our higher education systems as specified in sections 1000.05 and 1007.25 of the Florida Statutes.
The full letter: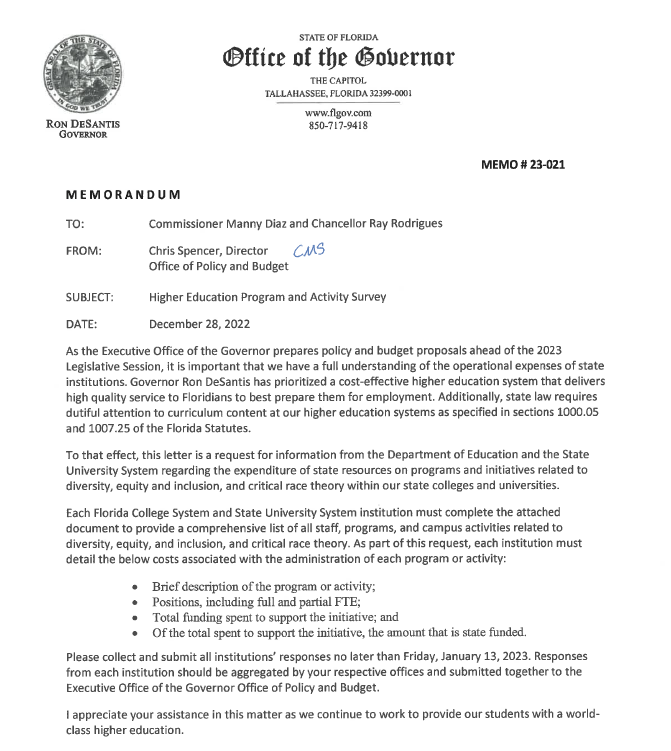 Advertisement - story continues below
How many millions of taxpayer money will it be? 
For the antidote to media bias, check out ProTrumpNews.com…