Florida Governor Ron DeSantis is showing elected officials across the country what true leadership looks like.
In just three days, the construction of the Pine Island Bridge — damaged during the hurricane — has already been repaired so that emergency responders and the general public can reach the island.
Advertisement - story continues below
This was two days ahead of schedule.
Construction on the Pine Island bridge has been completed today – just three days after construction began.

Happy to have the state step in and help get our Pine Island residents back on their feet. pic.twitter.com/a8GqPoHtP1

— Ron DeSantis (@GovRonDeSantis) October 6, 2022
TRENDING: (VIDEO) TGP's Jordan Conradson Joins Kari Lake To Discuss HUGE 9TH CIRCUIT WIN Against Maricopa County And Upcoming Election Lawsuit
The state of Florida reconnected a key bridge decimated by Hurricane Ian that cut off mainland road access for thousands of residents, but fixing a second damaged bridge system to reconnect another barrier island could take weeks longer even for a temporary solution.

Advertisement - story continues below

Both bridges are in Lee County in Southwest Florida, which took a direct hit from the storm. The Florida Department of Transportation completed a temporary land bridge to Pine Island on Wednesday, two days ahead of schedule. Emergency responders will be able use the bridge as of Wednesday afternoon, with the general public to follow a few hours later.

Ian washed out the approach to the Matlacha Pass Bridge, a the only connection from Pine Island to the mainland. Dump trucks filled the flooded and damaged roadway with sand and gravel to allow vehicle access.
POLL: Should DeSantis Run For President In 2024?
Here's what it looked like just after the hurricane: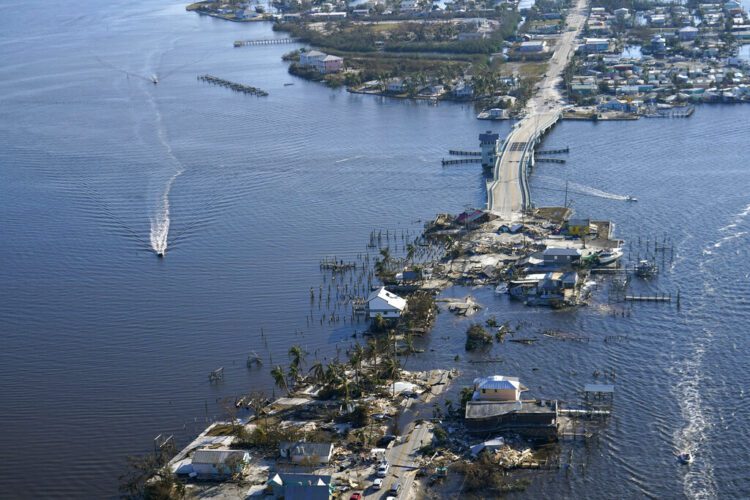 Many are pointing out that this could not have been done in a blue state with this speed.
Advertisement - story continues below
To many people living in most of America the idea of rebuilding a bridge in 3 days is simply unfathomable. The reason Ron DeSantis and the Republicans who run Florida are so popular is because they are competent. What DeSantis did in 3 days would be impossible to do in CA or NY. https://t.co/IgkTBK1tdA

— RRH Elections (@RRHElections) October 6, 2022
People can argue if they fixed the bridge or rebuilt the bridge. The impressive part is they did it in 3 days. States like California, NY, & Massachusetts would still be organizing the corruption and kickbacks

— Rick (@kimball4) October 6, 2022
In California you'd still be waiting for the an "expediter" to finish compiling the list of permits you'll need to submit…

— Kevin Gordon (@HangtownReason) October 6, 2022
It's amazing how quickly things can happen when red tape is eliminated! Bravo, Gov!!! 🙌🏼🙌🏼🙌🏼

— JBH (@jbhchilipepper) October 6, 2022
Advertisement - story continues below
As a Florida Certified General Contractor and Professional Engineer – I'm extremely impressed! Congratulations to you and the entire design and construction team!!!

— Scott Flynn (@ScottFlynn_FL) October 6, 2022
Christina Pushaw said that another bridge in Florida is also being worked on and should have a temporary bridge by the end of the month.
https://twitter.com/ChristinaPushaw/status/1577828760031838208?s=20&t=hdU5n7-O6tEezRikV6qumw
DeSantis gets stuff done.
Advertisement - story continues below