President Donald Trump has hinted multiple times that he will run in 2024.
A new poll from Emerson delivered good news to Trump if he does run.
The poll found Trump leading Biden in the potential 2024 matchup.
NATIONAL POLL:

If the 2024 Presidential Election were held today, and the candidates were Donald Trump and Joe Biden, who would you vote for at this time?

45% Trump
43% Biden
11% Someone else
1% Undecidedhttps://t.co/xSVc1a0sKa pic.twitter.com/1Ci8ircSBG

— Emerson College Polling (@EmersonPolling) November 5, 2021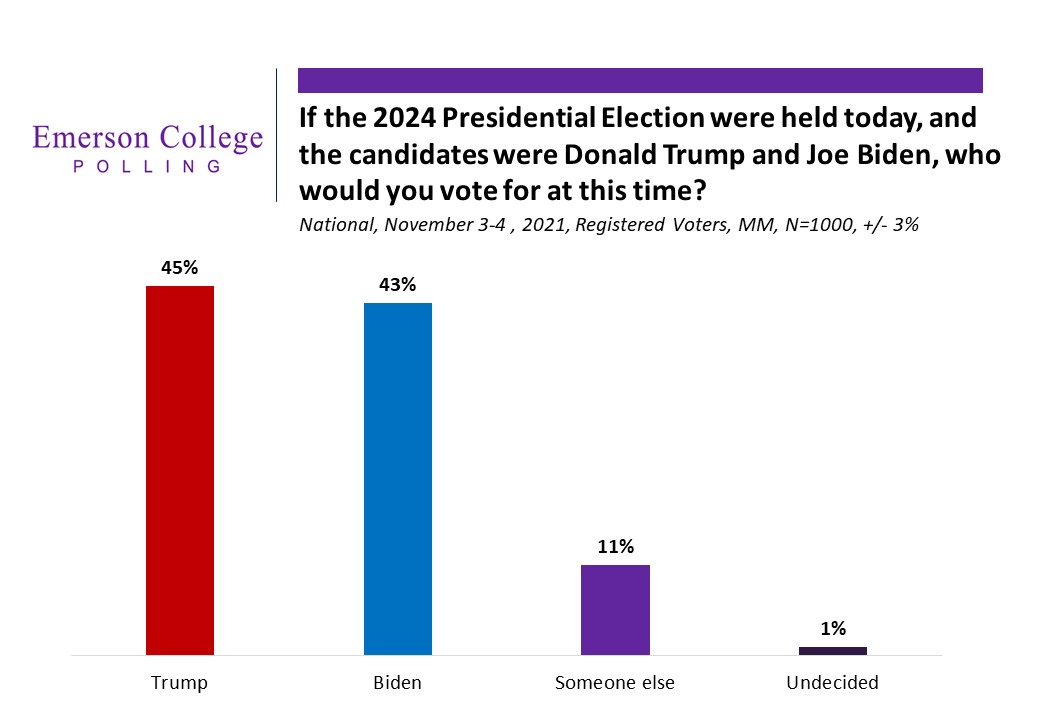 This comes as Biden's approval continues to tank.
A poll from Zogby found only 36% think Biden is doing an excellent or good job.
Biden Job Approval:

Excellent/Good 36%
Fair/Poor 61%

.@TheZogbyPoll, 896 LV, 10/8-10https://t.co/Zc5aZcZ3RC

— Political Polls (@Politics_Polls) November 4, 2021
Biden can only get his sagging numbers up by passing his agenda, and hoping the stimulus continues to juice an already battered and slowing economy. The one issue with that plan is it's very likely increasing federal debt and spending will further drive up commodity prices down the line, but politicians rarely think long term when their numbers are down.

Everybody is feeling the pinch at the pump and grocery store. Gas and food prices are skyrocketing, and inflation could help deliver the House back to Republicans!

Women voters are abandoning ship. Biden needs to improve his polling numbers with women or Democratic leaders risk losing the 2022 midterm election.

Can Biden be the deal maker he was in the Senate? It's quite amazing he cannot even get his own party on the same page. Usually, presidents are struggling to pass their agenda with a little bi-partisan support. The Democratic party is more divided than the Republicans now!

Holding up a vote on a bipartisan infrastructure bill Democrats could tout as a major victory and/or the country defaults on its debt, however short a period it is, could doom Biden's presidency.