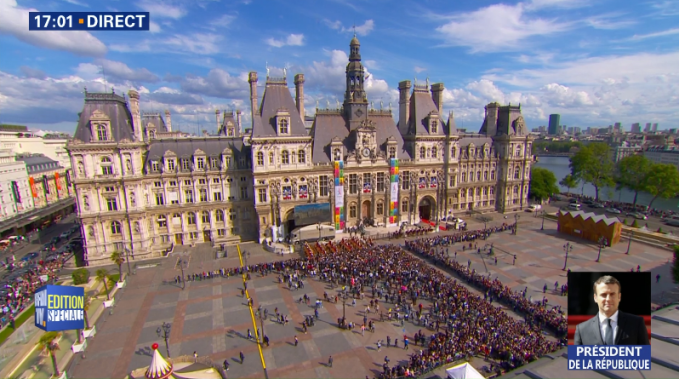 In a slightly embarrassing revelation for France's new president, French satirical weekly, Le Canard enchaîné, is reporting that the lack of public interest for one of Emmanuel Macron's first official functions was corrected with a simple phone call to state television – ordering a chief news editor to lose the wide-angle aerial shots and zoom in to exaggerate the size of the crowd.
Advertisement - story continues below
The widely-read publication, known for breaking scandals and embarrassing politicians, writes that Macron's new communications chief called France 2 television to express his annoyance at certain of their images being broadcast live during an event on the day of the new president's investiture.
TRENDING: BREAKING: HORRIBLE - Arizona Regime Is Investigating Kari Lake And Trying To JAIL Her On Felony Charges For Exercising First Amendment And Exposing Election Fraud
Following a swearing in ceremony and a parade along the Champs-Élysées, Macron attended an official reception with the socialist mayor of Paris, Anne Hidalgo, at the landmark Hôtel de Ville (City Hall).
Despite the central location – in the very heart of a city which voted 90% in favor of Macron – and much media hype surrounding the day's ceremonies, well-wishers were extremely limited as seen in the aerial view above. In fact, there were barely as many people as had showed up for a royalist and nationalist march taking place nearby – an event where participants were calling for the dismantling of the republic and a return of the French monarchy.
Advertisement - story continues below
The phone call to France 2 appeared to have the desired effect, Le Canard notes; Images soon switched to the desired view, and in the channel's evening highlights, all wide-angle and unflattering aerial shots had been replaced with pleasing close-ups of the crowd, creating an altogether different picture, as shown below.
Voilà, the magic of television…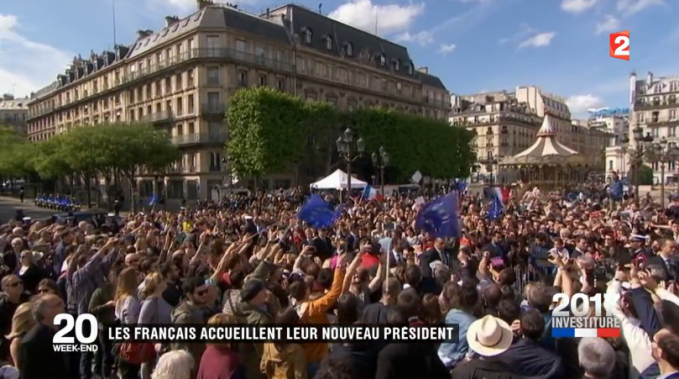 Wide shots were dropped in favor of close-up images following the phone call to France 2 television.
Advertisement - story continues below
Advertisement - story continues below
Crowds increased after this earlier photo was taken but not significantly, leaving an optics problem for Team Macron