WEINER LEFT HANGING – HUMA A NO-SHOW
Representative Anthony Weiner scheduled a 2:00 pm EST press conference at the Sheepshead Bay Senior Center in Brooklyn, NY to announce his resignation from the House of Representatives, following revelations that he exchanged sexually explicit messages and photographs of himself with women he met online and then lied about it. And lied some more.
Advertisement - story continues below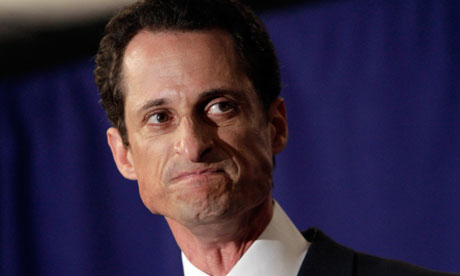 (Guardian)
Weiner's wife, Huma Abedin, is not standing at his side during his resignation speech.
The The NY Daily News has reported Weiner staffers have already cleared out of their Washington, D.C. offices, locking the door behind them.
Weiner notified House Minority Leader Nancy Pelosi and Rep. Steve Israel, chairman of the Democratic Congressional Campaign Committee on Wednesday night by phone while they were at a White House picnic. Pelosi told Weiner they were planning to strip him of his committee seats Thursday and "basically said they would not rest until it was done," a Democratic source said.

Scandal-scarred Rep. Anthony Weiner finally agreed to step down after consulting the woman he betrayed – his wife, a top source said Thursday.

After days of defying the Democratic leadership's call for his resignation, Weiner's humiliated wife Huma Abedin convinced him it was time to go, the source said.

"What broke him is Huma," said the source. "She said she can't see him continuing."
TRENDING: Remember the Young Woman Who Died While Waiting for a Coronavirus Test in New Orleans? …Yeah, Well Now the Truth Is Out

2:20 EST: Weiner takes the podium and announces his resignation from Congress. His wife, Huma, is not present. Immediately after his announcement cheers broke out. Then the jeering and heckling began. Weiner had difficulty speaking over the catcalling. Some of the comments are not repeatable. One comment loudly heard, "Goodbye Pervert!".
Weiner thanked his wife and his colleagues. It was a very brief speech, lasting barely five minutes.
Advertisement - story continues below
Somehow I don't believe we have heard the last of Anthony Weiner, former democrat congressman.