THE PEOPLE OF AZERBAIJAN WENT TO THE POLLS TODAY,
THE RULING PARTY IS CLAIMING A WIN AS EXPECTED,
VIDEO HERE
Azerbaijan is one of only two Muslim states to send troops to Iraq.
It has held rallies like the one pictured below throughout the year.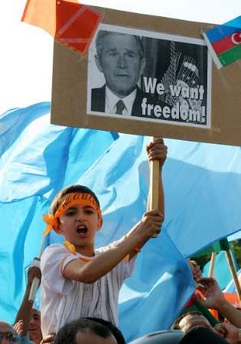 Azerbaijan, an oil rich country and ex-Soviet state, has high hopes that it will continue to make positive moves towards democracy.
Most initial reports from international observers are saying that the vote was fair.
Advertisement - story continues below
Katy at Blogrel was covering the elections from Azerbaijan.
The Bush Administration had pressured the Aliyev Regime to hold fair elections and international observers were allowed in after a last minute move.
TRENDING: "I'm Going to Use 125% of My Energy to Do It" - President Trump Vows to Reveal Massive Voter Fraud and Overturn Results in 2020 Election (VIDEO)
Test for Bush

U.S. President George W. Bush, who has made the advancement of democracy in the former Soviet Union a priority, had called on Aliyev to hold free and fair elections. Aliyev has been loyal to the U.S., letting companies such as Exxon Mobil Corp. develop its oil fields and supporting the U.S.-led war on terrorism.

Advertisement - story continues below

"This is a test for Bush's policy" of promoting democracy said John Schoeberlein, director of Harvard University's Central Asia and Caucasus program. "Azerbiajan has been very keen to make U.S. companies feel welcomed there and this administration would be very concerned about any threat to that position."
The Opposition is claiming widespread voter fraud.
Update: (Monday 11-7-05, AM) The BBC is reporting that the ruling party, New Azerbaijan Party had won 62 of the 125 seats in parliament. The OSCE is scheduled to give their report out soon on the validity of the elections.
Katy at NewEurasia is reporting that the OSCE has declared that the elections do not meet international standards.
Robert Mayer at Publius Pundit has been following the story and has a comprehensive update this weekend on the situation in Azerbaijan.
Advertisement - story continues below
The Registan has terrific links to the Azerbaijan election news today.
Previous Posts on the Azerbaijan Democracy Movement:
Azerbaijan Protesters Clash with Police
Azerbaijan Demands Freedom!
Azerbaijan Democracy Gears Are in Motion
Ripe Environment for More Democratic Revolutions
Out with the Old, In with Azerbaijan
Flowers, Eggs, & Rocks Fly in Azerbaijan Protests!
US Speaks Out as Azerbaijan Cracks Down
Russia Losing Grip on Ex-Soviet Republics
Eyes on Azerbaijan
Azerbaijan Election Test This Weekend
Update: (Monday 5:00 PM) Robert Mayer at Publius Pundit reports that the vote failed to meet international standards and the opposition rejected the vote.