Sean Penn… Actor, Iranian Reporter, New Orleans Hero, Fireworks Fanatic, Nurse Advocate(?).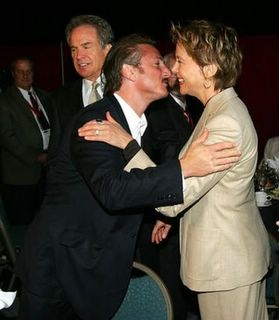 Actor Sean Penn, cleaned up after his boat excursions in New Orleans, greets actress Annette Benning, right, as Benning's husband actor Warren Beatty, left, looks on at a meeting of the California Nurses Association, Thursday, Sept. 22, 2005, in Oakland, Calif. Beatty was the keynote speaker at the nurses dinner(?). Beatty, a Democrat who has been mentioned as a possible challenger to Gov. Arnold Schwarzenegger next year, has in the past few months emerged as one of the governor's most visible and vociferous critics.
Warren Beatty, a longtime advocate of nurses,… or, uh, the Nurses Association, gave a blistering talk last night in Oakland with friend and fellow actor Sean Penn at his side. Beatty, the actor and eternal Hollywood playboy, is looking at challenging Arnold in next year's election:
Beatty, a Democrat and longtime political activist who has been mentioned as a possible challenger to Schwarzenegger next year, did not announce his candidacy as many in the boisterous crowd had hoped. But he indicated he hadn't ruled out a run, and said he would continue to speak out on important issues.

Advertisement - story continues below

"I believe if a private citizen is able to affect public opinion in a constructive way he doesn't have to be an elected public servant to perform a public service," Beatty said. (Huh?)

But Beatty used most of his address to rail against the Republican governor's "year of reform" ballot initiatives in the Nov. 8 special election. Schwarzenegger is pushing several measures that would curb the power of the Democrat-controlled Legislature and the state's powerful public employee unions.

TRENDING: BREAKING: Mike Lindell Visits Trump in White House - Then Media Captures Pictures of His Notes to President Referring to Crimes and Insurrection Act

Beatty, who has criticized the governor several times this year, called the initiatives "union busting" and "fascist."
Arnold's spokeswoman, Margita Thompson, had a response to the criticism:
Advertisement - story continues below
"We don't care that much about Warren Beatty, and based on his ticket sales from the past generation, I doubt anyone else does either."
Beatty played a U.S. senator in the 1998 movie "Bulworth" and entertained the idea of running for the presidency six years ago.
A statewide Field Poll taken in June showed that just 24 percent of California voters would be inclined to elect Beatty governor, while 53 percent said they weren't inclined and 23 percent had no opinion.
If any Republican wanted to resort to the democratic tactic of character assassination,… Could you imagine the dirt in that closet?
Run, Warren, Run!
California Conservative has more on Warren's political escapades.