Poland Sees Double with Center Right Win
CENTER RIGHT PARTY WINS IN POLAND
VIDEO HERE
** The international media can't tell the Polish twins apart! **
See here and here (My guess is that it is Lech).
Child Star and Identical Twin Lech Kaczynski's Law and Justice Party is winning the Polish election today.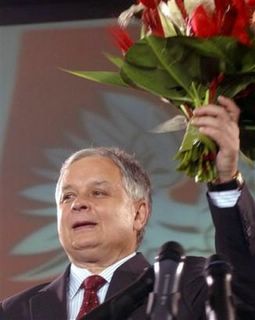 Law and Justice party, PiS, presidential candidate Lech Kaczynski thanks his supporters during the election night, after learning that his party won the general election in Poland, according to exit polls, in Warsaw, Sunday Sept.25, 2005. (AP)
The center right is looking at a landslide win in Poland:
Poland voted on Sunday in parliamentary elections expected to push the European Union's biggest new member to the right and speed the pace of economic reform, stalled under the outgoing leftist government.

In the 16 years since the fall of communism, no Polish government has won re-election and opinion polls indicate Sunday's election — the first since Poland joined the EU — will continue that pattern.

Surveys suggested voters would punish the ex-communist Democratic Left Alliance for corruption scandals and high unemployment during their four years in power, and support two center-right parties rooted in the pro-democracy Solidarity movement.

"These are very important elections because they mark the end of the post-communist era," said Jan Rokita, the pro-business Civic Platform's candidate for prime minister.

"Poland needs a new government without delay to tackle the main problems: restoring public morality and winning the war on unemployment," he said in his native Krakow, in southern Poland, after casting his ballot.

Lech (on right) and twin brother Jaroslaw were famed child actors in Poland. Lech is Law and Justice presidential candidate while Jaroslav is the party leader. (BBC)
Poland has built the largest unemployment rate in the EU under the communists:
Just over 30 million of Poland's 38 million citizens are eligible to vote Sunday, with some 80,000 expected to cast ballots overseas, where unofficial estimates say about 2.5 million Polish voters live.

Poland — a strong U.S. ally in the war on terror — also will have four polling stations in Iraq and one at Bagram Airfield in Afghanistan for its forces there.
The winning party's leader Jaraslov said he would renounce the premiership if his twin brother wins the presidency in October:
Poland also will hold presidential elections Oct. 9, with a likely runoff vote two weeks later.

Warsaw Mayor Lech Kaczynski, the identical twin brother of the Law and Justice leader Jaroslaw Kaczynski, is one of two leading candidates in that race. The other is Tusk.

Jaroslaw Kaczynski has said that, if his brother wins, he would renounce the premiership in order to spare Poland the confusion of two leaders who look alike.

You can tell them apart if you know what you are looking for. Lech has two distinctive moles on his cheek and nose.
The win may mean that Polish troops will stay longer to help the situation in Iraq:
Prime Minister Marek Belka's defeated government had said it would withdraw Poland's troops from Iraq by Dec. 31, though it might keep some officers there as advisers. The challengers said they might be open to keeping them there longer if a "new contract" can be negotiated with the United States.
The Polish parties including the communists all desire strong ties with Washington.
Polish Prime Minister hopeful slammed Russia before the elections this past week:
Conservative Jaroslaw Kaczynski's comparison of Russia with Hitler's Germany seemed likely to further strain ties already tested by the former Soviet ally's integration into the West.

"What Russia has done recently is surprising and unusually drastic — I can't remember such practices against diplomats even in Berlin when Hitler was in power," Kaczynski told the Polish daily Gazeta Wyborcza in an interview.

Kaczynski, whose Law and Justice (PiS) party is expected to place first or second in Sunday's general elections, has long been critical of Russia and vows a tough policy towards Poland's former overlord if he leads the next government.

"In our relations with Russia you need to be patient and avoid provocations, but if events like the recent ones take place, you have to tell the truth — cowardice is only an encouragement," Kaczynski said.