PASSENGER BUS EXPLODES OUTSIDE OF DALLAS,
VIDEO HERE

The bus was carrying ill and elderly evacuees fleeing from Hurricane Rita.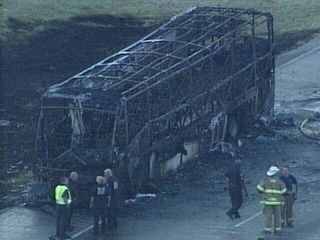 The charred remains of the evacuee bus outside of Dallas.
A bus carrying evacuees from Hurricane Rita exploded outside Dallas. As many as 20 may have died in the blast:
Advertisement - story continues below
KFAA-TV reported that 20 people had been killed and 12 injured, but that could not be confirmed.

KDFW-TV reported that more that one person was killed, and that some people may have been trapped aboard the bus.

"There were 45 souls on the bus … at this point we believe we have about half accounted-for," Dallas County sheriff's spokesman Sgt. Don Peritz said.

"The early indications are this is a mechanical issue. The driver did survive the accident," Peritz said. "It's my understanding he went back on the bus several times to try to evacuate people."

The bus had been carrying elderly evacuees from coastal areas expected to be hit by the giant hurricane.
The bus exploded on Interstate 45 outside of Dallas.


WFFA TV in Dallas had this picture of the scene.
The AP is now reporting the explosion has caused traffic to back up for 17 miles:
TRENDING: VIDEO: Leftist Protester Killed, Dragged by FedEx Truck in Downtown St. Louis after Mob Shuts Down Highway and Attack His Truck
The bus was engulfed with flames, causing a 17-mile backup on a freeway that was already heavily congested with evacuees from the Gulf Coast. Dallas television station WFAA reported 20 persons were killed.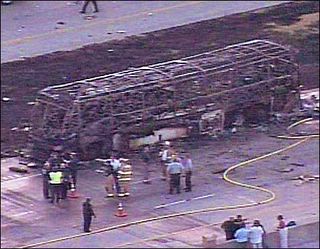 Another view shows the total destruction of the passenger bus.
Advertisement - story continues below
The explosion may have been due to oxygen tanks from the elderly on the bus:
There may have been multiple explosions on the bus due to oxygen tanks used by elderly passengers, WFAA said.

All that remains of the bus is a blackened skeleton, surrounded by scorched pavement and grass, television images show. Wilmer is about 14 miles south-southeast of Dallas.
Dallas News is now reporting that 24 appear dead from the explosion.