Babs Declares War on Warming!
Babs, honey, ENOUGH IS ENOUGH!
This may escape your MEMORY but hurricanes have been raining down on PEOPLE since you were a child and will until the STONEY END of time!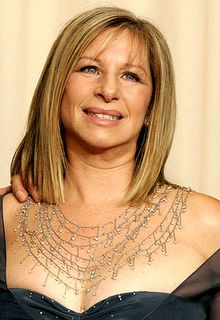 Babs doesn't understand that "The Way We Were" was about the same!
Barbara Declares an Emergency & Blames Global Warming on Hurricanes (Via Drudge)
This summer's back to back superstorms are proof positive we have entered a new period of "global warming emergency," artist/citizen Barbra Streisand warns.
Streisand is back on the scene to promote her reunion disc with Barry Gibb.
As hellstorm "Rita" churned in the Gulf, Streisand sat down for a promotional interview with ABCNEWS's Diane Sawyer.
"We are in a global warming emergency state, and these storms are going to become more frequent, more intense," Streisand urgently declares.
French Blogger, Joe at No Pasaran, posted this chart on September 17th.


Is it too much to ask Babs to open a book before she opens her mouth?
But Sawyer did not remind Streisand that a Category 5 hurricane struck the Bahamas with 160 mph winds — when the singer was five years old, in 1947!
And when Streisand was 8 years old, a Cat 5 hurricane — named "Dog" — packing 185 mph churned-away in the Atlantic.
When she was 9, a Cat 5 storm named "Easy" ripped the seas with 160 mph sustained winds.
Streisand was 13 years old when "Janet" hit Mexico with 150 mph winds.
Streisand was celebrating her sweet sixteen as "Cleo" formed with 140 mph.