* * * * * The Violence & Death Begin Again in Sudan * * * * *
JOHN GARANG'S DEATH IS A BLOW TO SUDAN'S PEACE PROCESS,
VIDEO HERE
After the shocking news this morning of the death of Vice President John Garang in a helicopter crash just three weeks after his triumphant return to Khartoum,… the pain returns to Sudan.
Advertisement - story continues below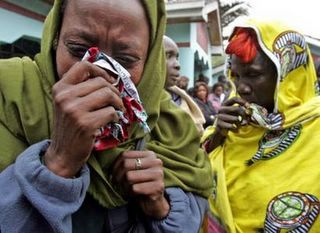 Women in Khartoum mourn for the one who brought them hope.
At least, twelve people, including some police officers, were killed in rioting in Khartoum on Monday, a police official told Reuters.
TRENDING: BREAKING: Mike Lindell Visits Trump in White House - Then Media Captures Pictures of His Notes to President Referring to Crimes and Insurrection Act
South African President Mbeki appealed for calm in Sudan:
Advertisement - story continues below
"It is with great shock and sadness that the government and people of South Africa learned of the death of Dr John Garang de Mabior, the first vice-president of the republic of Sudan,".
"It is especially tragic that Dr Garang's death comes a mere three weeks after his inauguration on July 9 2005 as the first vice-president of the republic of the Sudan.
"South Africa would like to encourage the parties in Sudan to exercise restraint and remain committed to the implementation of the comprehensive peace agreement."

Sadness returns to Khartoum as news spread today of John Garang's death.
The Sudan Tribune tries to persuade the Sudanese that peace is still possible:
Advertisement - story continues below
A peace agreement between the north and south of Sudan, signed in January and now coming into effect after 22 years of war, will probably survive the sudden death of veteran southern leader John Garang, analysts said on Monday.
Garang's Sudan People's Liberation Movement (SPLM) will endorse a new leader relatively quickly and will continue to work with President Omar Hassan al-Bashir and the other northerners against whom they fought so long, they said.
Garang's absence is a heavy blow to the January peace deal that ended a 21-year civil war between the mostly Muslim north and the Christian and animist south in which some 2 million people died.
Today's earlier post on the tragic news from Sudan:
Shocking Setback for Sudan