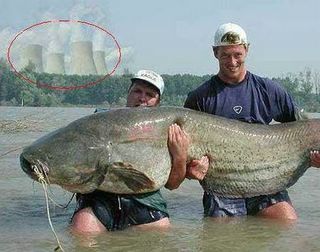 Is Iran ready for "Big Fish"?… and is the world ready for Iran to have "20" more nuclear facilities?
This might be funny if it weren't so serious:
Russia is a likely partner in a plan envisaging construction of 20 nuclear power plants in Iran, a senior member of Iran's parliament was quoted by Agence France Presse as saying.
"A plan has been approved in parliament obliging the government to study the possibility of building 20 nuclear power stations … Various countries, including Russia, can participate and we hope Russia will continue to cooperate with us on this question," Kazem Jalali, head of the Iranian parliament's foreign affairs committee, said.
Jalali was speaking during a visit by an Iranian delegation to the Russian capital aimed at developing economic ties between the two countries.
Russia is constructing Iran's first nuclear reactor at Bushehr, part of a technological cooperation agreement with Tehran in 2002 that opened the way for construction of up to five reactors over the coming 10 years.
Both the U.S. and Israel have objected to the building of the Bushehr reactor, which could be turned on next year, as they claim Iran is secretly trying to develop nuclear weapons and that having such a facility will be a proliferation risk.
Hat Tip S. Carter for the picture!