Not looking worried, Kamel knows he will be out soon!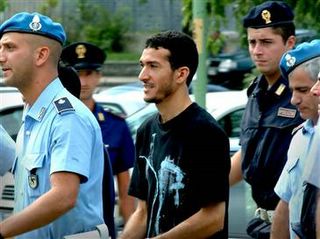 Italian courts convicted two terrorists this week. Tunisian Kamel Hamraoui (above) and Moroccan Mohamed Rafik were sentenced to four years and eight months of prison for belonging to an extremist cell alleged to have planned attacks in Italy.
Meanwhile, a Saudi dissident exiled in London is telling Italy that they will be next:
"Italy should be very careful, al-Qaeda will strike it soon. Following its strategy, that is the most logical thing it will do," Saad al-Faqih, a surgeon the US believes has helped finance al-Qaeda, told the Italian newspaper Corriere della Sera.
Advertisement - story continues below
"After Spain, Italy was the weakest link in the chain of allies in Iraq," he told the newspaper, pointing out that the country's relations with America have subsequently worsened. "Osama bin Laden will be well aware of that. He follows everything. The murder of your secret service agent in Baghdad [Nicola Calipari, who was shot dead by an American soldier at a checkpoint in March, as he took newly freed Italian hostage Giuliana Sgrena to the airport] certainly won't have passed him by, or the anger of the Milan judge over the illegal kidnapping carried out in your country by the CIA. It could be that these diplomatic differences with Washington have convinced al-Qaeda to strike London before Rome or Milan, but it is only a question of time," he said.