Bombs in London!
** A US official is saying that there are 40 deaths or more **
** Al Qaida in Europe is taking responsibility **
VIDEO HERE
(you may have a hard time with this since it is from the BBC which is jammed right now!)
MORE VIDEO HERE
(This is a thorough video segment on the London Terrorist Attacks)
LONDON HOSPITALS FLOODED WITH CASUALTIES,
VIDEO HERE
TONY BLAIR SAYS TERRORISTS WON'T WIN,
VIDEO HERE
* At least five explosions are being reported! *
* Not clear on how many are dead or injured but the number is expected to be high! *
Death toll from the separate terrorist bombings:
"Seven people died in the first blast in a Tube tunnel 100yds from Liverpool Street Station, 21 died in a blast at between King's Cross and Russell Square and five died at Edgware Road station in an explosion involving three trains."
"There were also deaths in a bus blast in Upper Woburn Square but no figures are available, Deputy Assistant Commissioner Brian Paddick said."
Names of areas where rescue crews are gathering:
* Russell Square area of central London
* Emergency services personnel work near the site of wreckage of a bus after an explosion in Tavistock Square
* King's Cross station
* Near the London Hilton Metropole on Edgware Road Tube Station
* Aldgate Tube Station

Map of the explosions in London this morning during London rush hour.

A series of explosions have gone off in London today.
London has shut down it's subway system as a series of bombs have gone off simultaneously in the city:
Police sources say a bomb is suspected in a London bus explosion.
Police are confirming there were at least three explosions on buses in central London.
Police also say there were serious casualties in the London explosions. There are now reports of two deaths.
London Authorities are now calling the explosions a series of coordinated terrorist attacks!
The British government was slow to release information following a series of coordinated terror attacks in Central London on Thursday, and cable TV stations scrambled to get the latest details, even as bombs kept going off.
A number of simultaneous explosions rocked — and apparently still are rocking — the city's transportation infrastructure, a scenario some are comparing to Madrid.
The first series of blasts hit the London subway system toward the end of the morning rush hour, around 8:50 a.m. London time (4:50 a.m. EDT). Press reports put the number of subway explosions at five.
An explosion destroyed a double-decker bus near Russell Square (search) not long after several blasts were reported on London subways, police said. A witness said the entire top deck of the bus was destroyed.
"I was on the bus in front and heard an incredible bang, I turned round and half the double decker bus was in the air," Belinda Seabrook told Press Association (search), the British news agency.

Paramedics and emergency vehicles are arriving on the scene.

Emergency vehicles are gathered on the scene outside King's Cross station in London.

An injured passenger emerges from the Edgware Road Tube Station.

The double decker bus that was hit by an explosion in London this morning.
Athena has more.
Instapundit is all over this story including links to his contacts in England.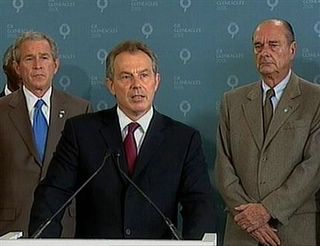 British Prime Minister Tony Blair speaks to reporters following the terrorist attacks this morning. Behind Tony stand US President George Bush and French Prime Minister Jacques Chirac.
La Shawn Barber, Polipundit, Michelle Malkin, Little Green Footballs, Powerline, Chrenkoff, Davids Medienkritik… everyone is on the story…
Update: Trey Jackson at Jackson's Junction has clips of Bush, Blair, the G8 Leaders, and London's Mayor Ken Livingstone addressing the situation. Mayor Livingstone gives a moving and memorable speech to the world and the terrorists!
Hat Tip Chris W. & Super-Trey!
Update 2: California Conservative sounds off
about the comments of Scotsman George Galloway.
The Political Teen has the video of Homeland Security Secretary Chertoff giving his brief on the London Attacks.
Update 3: The World Reacts to the London Bombings HERE.