Police use water cannons to dispurse the protest in Manila today…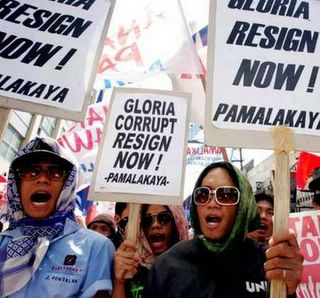 Around 3,000 Philippine protesters urged President Gloria Arroyo to resign today.
Police used water cannons to break up protests in Manila today:
Police used water cannons on Friday to break up a protest by about 3,000 people calling for President Gloria Macapagal Arroyo to resign over corruption allegations against her, police and witnesses said.
Advertisement - story continues below
The army is on red alert in Manila for any trouble over the weekend, when the country marks its independence from Spain, as rumours swirl that the political opposition is planning a major rally to call for Arroyo to step down.
Protest leaders said 30 demonstrators were injured on Friday after police used the water cannons to stop the crowd marching on the presidential palace.
TRENDING: Portland: Women Defending Police Precinct Attacked by Antifa Terrorists
Police said they had no knowledge of civilian casualties, but said five police officers were injured by stone-throwing protesters.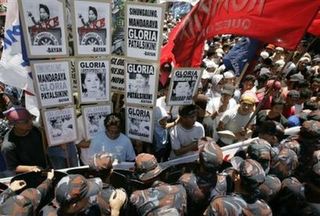 Police broke up anti-government protests in Manila today. Opposition-fed scandals have so far lacked the spark for big anti-government protests.
Advertisement - story continues below
The US is backing Arroyo "unequivocally" at this time against the charges brought up by a former political opponent. Experts have now discredited a tape recording by this opponent, Alan Paguia, saying the tape was doctored:
The United States expressed its "unequivocal" support for embattled President Gloria Arroyo and said there appeared to be no real danger of a coup despite persistent rumors.
The US government however would oppose "any extra-constitutional or extra-legal efforts to any way undermine" Arroyo's government, US embassy charge d'affaires Joseph Mussomeli said.
Arroyo has placed the entire military and police forces on full alert as rumors swirl of a plot against her fueled by opposition allegations she rigged last year's election.
Local media aired what the government described as an illegally tapped and doctored telephone conversation that purported to show Arroyo urging an independent election commissioner to ensure she won the vote.
Advertisement - story continues below
Alan Paguia, a former lawyer for former president Joseph Estrada who was deposed in a military-backed popular revolt headed by Arroyo in 2001, has admitted editing and circulating the tape.
The military is going to investigate to find the source of the wire tap on the president:
The Philippine military said Friday that it would investigate its intelligence arm amid rumors that it was behind the wiretapping of President Gloria Macapagal-Arroyo's calls concerning the May 2004 election.
Chief of Staff General Efren Abu told reporters that no specific agents of the Intelligence Service of the Armed Forces ofthe Philippines (ISAFP) has been pinpointed in particular but "everyone is a suspect."
Advertisement - story continues below
The Philippine government early released two compact discs of wiretapped cellphone conversations allegedly between President Arroyo and an election official when she sought assurances of a convincing win in the polls.

President Arroyo addressed charges against her on a radio broadcast Thursday in Manilla.
Family "gambling" charges are also dogging the president:
The President is also facing allegations that her son and brother-in-law, both House representatives, received kickbacks from illegal gambling operators. Both men have denied the charges.
Advertisement - story continues below
President Arroyo went on the air Thursday to try to squelch the rumors of the last week:
President Gloria Macapagal Arroyo yesterday rejected clamors for her to resign and to call a special elections amid fresh allegations that she cheated in the 2004 elections and of her family's involvement in the illegal numbers game "jueteng."
The President said she was given a clear electoral mandate to govern the nation for a full six-year term and would resist moves to unseat her from office.