IRAQ IN THE EYES OF THE BBC, VIDEO HERE
Condi is hard to keep up with as she ruffles a few feathers in The Kingdom, warns Syria against tolerating terrorists, expands the International Quartet on Mideast Peace to six, assists a Pakistani rape victim, and completes a successful Iraqi pledge drive in Belgium, all in the last twenty four hours, or so!
Advertisement - story continues below
80 countries promise aid and expertise to Iraq.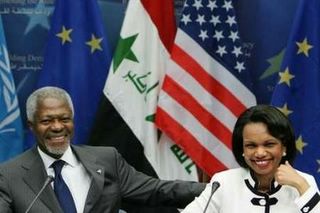 Kofi Annan and Condoleezza Rice wrap up a productive Iraqi pledge drive in Belgium with representatives from 80 countries promising assistance.
Condoleezza said that something needed to be done about the flood of terrorists crossing Syria's border into Iraq:
U.S. Secretary of State Condoleezza Rice on Tuesday warned Syria not to let its territory be used by terrorists targeting military and civilians in Iraq and politicians in Lebanon.
TRENDING: BREAKING EXCLUSIVE: As Soon As Simona Mangiante Papadopoulos Testified that Joseph Mifsud Worked For the Clinton Foundation, She Was Brutally Targeted and Harassed By the Left
"It is time for Iraq's neighbors, especially Syria, to live up to their responsibilities," Rice said at a one day conference in Brussels attended by 80 foreign ministers from Iraq's neighbors including Iran and Syria, the Group of Eight industrialized nations, NATO and the Arab League.
"We have forces near that border and we know what is coming across that border," Rice said referring to Syria's border with Iraq. The flood of insurgents crossing the frontier "is a real problem for the Iraqi people, and something needs to be done about that," she told a press conference after the talks. "We have had numerous conversations with Damascus about our areas of concern and the Syrian government knows what it needs to do."
Advertisement - story continues below
UN Leader, Kofi Annan, said that the pledge of support at todays meeting was the turning point for Iraq:
UN Secretary General Kofi Annan has said international support pledged towards rebuilding Iraq marks a "turning point" for the country.
But he said the process would not be easy and Iraqis should take control of their own future.
Rice personally extended a hand to Pakistani rape victim during her trip:
The State Department revealed Rice's personal intervention in the now famous case, after The New York Times reported that the Pakistani government still had Mai's passport, despite lifting a ban on her travelling last week.
Advertisement - story continues below
Top Pakistani officials maintained there had been no US pressure in the case of Mai, who was ordered gang raped by a tribal council in 2002, and emerged as a cause celebre for international human rights campaigners.
However, State Department deputy spokesman Adam Ereli said Tuesday the issue was raised last Thursday by Rice, in a telephone call with Pakistan Foreign Minister Khurshid Kasuri.
"Secretary Rice made it clear that Mrs. Mai was welcome to come to the United States at any time and that we were looking to the government of Pakistan to ensure that she was free to travel whenever she wanted," he said.
Condoleezza also stopped in Saudi Arabia during her Mideast tour. "Crossroads Arabia" has news on that jaunt to "The Kingdom" by the Secretary of State.
Advertisement - story continues below
And, Arab News has a positive news item titled "Thank You, America".