Following the Friday Service…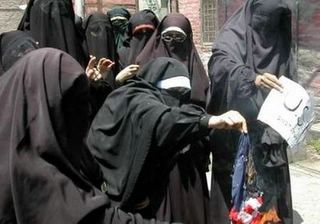 Veiled women in Kashmir burn a US flag after their Friday prayers on May 27th.
On Wednesday, May 18th, 300 Afghani clerics declared a jihad against the US over charges of Koran abuse by Newsweek:
A group of Afghan Islamic clerics have deferred a call for holy war against the United States over a magazine report that U.S. interrogators desecrated the Koran after the report was retracted.
The clerics in Badakhshan province said on Sunday the United States should hand anyone guilty of desecrating the holy book to a Muslim country for prosecution in three days or they would declare jihad, or holy war, against the United States.
But Newsweek magazine, which first ran a story in its May 9 issue saying U.S. military interrogators at Guantanamo Bay had flushed a Koran down a toilet, on Monday retracted the report.
"We will consult and discuss our next move with other Ulemas," said the head of Badakhshan's council of clerics, Mullah Sadullah Abu Aman, when asked about the jihad call.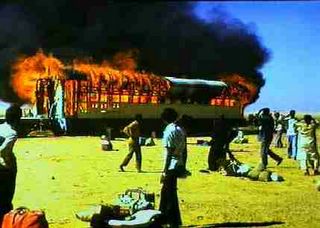 A fire blackens the skies of Sudan.
Too bad the 300 Muslim clerics aren't paying attention to real stories of Koran desecration,… along with genocide of their Muslim brothers and sisters…
Shrapnel holes pock this battered village's green and white mosque. Its black, non-Arab residents practiced Islam for generations, but in the eyes of their Arab attackers, they weren't true Muslims.
Islam once was the glue that held things together in Sudan's western Darfur region, but black African Muslims now talk of desecration of mosques, burning of Korans, and murders of religious leaders.
Human-rights groups and diplomats say the attacks on black Muslims by pro-government Arab militias called Janjaweed add weight to allegations that genocide is occurring in Darfur. Under international law, genocide is defined as intent to destroy, in whole or in part, an ethnic, racial or religious group.
What is striking here, though, is that both victims and killers are Muslims, from the same Sunni sect, who intermarried for generations and prayed in the same mosques…
…Religion has infused Sudan's long history of wars. The Arab-dominated regime, led by Islamic ideologues, has labeled its conflict with southern Christian rebels a jihad – holy war. It also has targeted black Muslims in the Nuba Mountains and attacked mosques of the rebellious Beja people…
…"Muslims are forbidden to kill other Muslims," Mohamed said. The Janjaweed "are Muslims in name only. They want to wipe out our black roots."
And, more instances of Koran burnings in Sudan here…
By the standards of Darfur, Tirti's suffering was minimal. Human Rights Watch, a New York-based lobby group, has documented how Janjaweed forces – in thousands of attacks across Darfur – have raped women and branded them on their hands to preserve the stigma. In other attacks they have torched mosques and defecated on copies of the Koran.