While soldiers defend the country, Democrats rally to fight the enemy, Bush.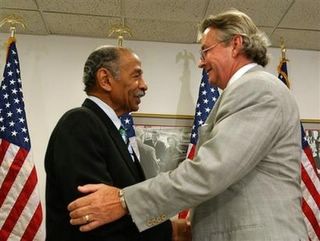 Two birds of a feather, Representative John Conyers, D-Mich., and discredited former Ambassador Joseph Wilson on Capitol Hill Thursday, June 16, 2005, during a "mock" hearing by Democrats on the so-called Downing Street Memo. (AP)
After a leading Democratic Senator attacked the military, yesterday, Democratic members of the House of Representatives along with other Anti-Bush activists met in Washington to hurl new/old attacks at the Bush Administration:
Rep. John Conyers and other Democrats on the House Judiciary Committee conducted a public forum Thursday (like a play-hearing!) prompted by documents that have surfaced from inside the British government about prewar planning.
Former Ambassador Joseph Wilson, who advised the Bush administration in 2002 that Saddam Hussein had not tried to buy a certain kind of uranium from Africa, said Conyers' hearing was important.
*Spit*
It's not surprising that the Democrats would choose Joseph Wilson to stand on stage with them in this shameful and slanderous exposition today. The darling of the MSM and the New York Times in particular; they ran his bogus Bush-bashing story for days on their front pages. And then after Wilson was discreditied as a lyar, the MSM didn't give much more than a 7th page three line correction to the "Yellow Cake" story.
But today it was as if the 9-11 Report and the Duelfer Report never existed. The AP is back making Wilson some kind of hero in the above coverage of this sideshow. What crap! What a rotten lie!
But, a few of us didn't forget. And thank God for the "search" option on conservative blogs. Instead of performing an exhaustive search on Google or Yahoo to find out Joe Wilson was a liar, it only takes a couple of clicks on the "Powerline" blog-search.
The side-show mock/pretend hearing, the resurrection of Joseph Wilson, and the repugnant bias of the reporting on this fiasco, is a new and dangerous low for the Democrats and the Liberal Mainstream Media. How will they top this?
Here is an earlier post on how the BBC brands another hardcore leftist a non-partisan.