Another scandal rocks Chicago City Hall…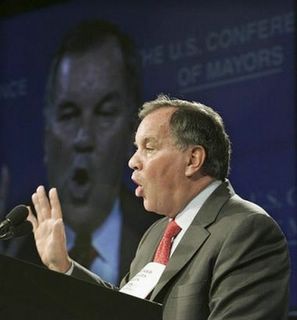 Mayor Daley says that the cleanup program was not a "mess" at all. Critics show he gave preferential services to acquaintances on the city's dime.
As if the "Columbian Drug Lord Heroin Smuggling Scandal" from City Hall yesterday was not a "big" enough story to bog down Mayor Daley of Chicago…
Advertisement - story continues below
Today another "mess" is being reported in the Chicago Sun Times. Now there are accusations of city cleanup crews giving preferential treatment to Daley aquaintances:
Mayor Daley shrugged off Monday's Sun-Times story that revealed that at least 500 times last year city crews cleaned up privately owned lots at taxpayer expense and falsely marked the lots as being city-owned (some of them were clout-heavy favorites of the Mayor).
"We clean 'em all — we know where some of 'em [are], we constantly have problems, we put barriers up," Daley said at the Hilton and Towers, where he is hosting mayors from around the country at a conference. "We work hard. You know that. You take six instances, and we'll go over each one of them. . . . It's not a mess at all."
TRENDING: EXCLUSIVE: Amazon Is Censoring The Gateway Pundit Writer Joe Hoft's Latest Book "In God We Trust: Not in Lying Liberal Lunatics" ... UPDATE: Amazon Just Removed Censorship!
Daley said there were "six" improper cleanups. His press secretary, Jackie Heard, said there were 10. The Sun-Times found 500 cleanups of lots that crews marked as "city-owned," but which turned out to be privately owned, some of them by clout-heavy associates of the mayor. The Sun-Times ran photographs of 14 of the lots, some of which were visited up to 32 times by the cleanup crews…
…And on Monday, a former Streets and Sanitation ward superintendent said she saw first-hand city crews giving special treatment to some businesses, cleaning up garbage on their lots and not issuing tickets as they are supposed to.
Advertisement - story continues below
Here is a segment from Monday's Chicago Sun Times story:
Millionaire developer Elzie Higginbottom, a close ally of Mayor Daley, had a 275-ton problem, city records show.
275 tons of garbage.
That's what had piled up over last year on a South Side lot that Higginbottom manages for his brother Eric, who owns the land.
The lot is vacant, except in the back, where the brothers make money by leasing space for a cell phone tower.
Advertisement - story continues below
The Higginbottoms didn't clean up the mess.
The city did.
Last year, city workers visited the lot 16 times, toiling more than 100 hours, to cart away mounds of garbage and tires, tossing the mess into hired trucks, city records show.
But the city never sent the Higginbottoms a bill.
Advertisement - story continues below
Chicago taxpayers ate the cleanup cost — at least $12,140, according to a Chicago Sun-Times analysis.
The Higginbottoms' tax bill on the vacant lot last year wouldn't even cover that. They paid about a third of that in taxes…
Yesterday, the latest scandal under Mayor Daley's watch saw eight city employees charged with running a Columbian Heroin Ring out of City Hall.