Government seeks "Whistleblower"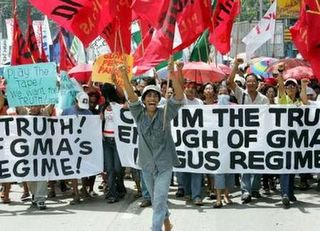 Philippine protesters march in Manila earlier today.
Philippine officials have a warrant for the man responsible for leaking the audiotapes of President Arroyo:
The Philippine government has filed sedition charges against a man who says he has audio tapes linking the president to cheating in the 2004 poll.
Advertisement - story continues below
The government says Samuel Ong's recordings were doctored and has warned the media not to play the tapes.
The retired intelligence official is currently in hiding.
TRENDING: "F**k You Cracker A$$!" - Peaceful Protest: BLM Thug Harasses, Threatens White School Kids on Their Trip to DC (VIDEO)
He says intelligence agents gave him the tapes, in which President Arroyo appears to be pressing an election official for a bigger victory.
In the latest protest, about 1,000 people rallied outside Congress on Wednesday, calling on President Arroyo to resign.
Advertisement - story continues below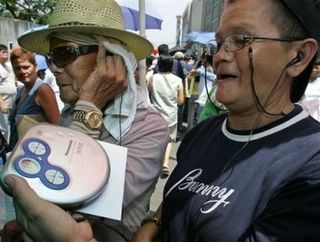 Women share a headset as they listen to the recordings of Preident Gloria Arroyo.
Arroyo still silent on the tapes:
Arroyo herself has made no comment on the controversy, which comes hot on the heels of charges that close family members took payoffs from illegal gambling and as her popularity ratings languish at record lows.
"These tapes are clearly just being used for political propaganda," her spokesman Ignacio Bunye said on Wednesday, reiterating that Arroyo would not comment on the issue.
Ong moved to a secret location on Monday after spending three nights holed up in a Catholic seminary in the capital.
Advertisement - story continues below
President Gloria Arroyo also found out that now her country needs cows:
A program at schools to feed some of the country's 12 million malnourished children needs 12,000 more cows to provide enough milk, said Corazon Soliman, the social welfare secretary.
Arroyo, who is fighting opposition allegations of election cheating and illegal gambling payoffs to her family, made the feeding program one of her 10 key campaign promises when she won a fresh term last year.
Of the 12 million children most at risk, 2.2 million are underweight and 2.86 million are shorter than average, according to the National Anti-Poverty Commission.
Advertisement - story continues below
"We will be servicing 300,000 children a day and will need 15,850 gallons a day," the Philippine Star quoted her as saying. "We hope to get 40 percent of the milk requirements from the dairy industry in the Philippines."
Arroyo's son is set to step down due to gambling charges against him.
A history of the secretive tapes is here.
Much more at:
Philippine Politics '04
And, A.M. Mora y Leon has been following the story at Publius Pundit
Advertisement - story continues below
Previous Posts on GloriaGate:
Philippine Protests Mount Against Arroyo
Wire Taps & Protests in the Philippines