What is it about Democratic Presidents that they never leave office?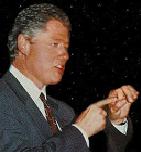 Is anyone really surprised that Bill Clinton offered unsolicited advice today?
Do they cross their fingers behind their back when they take the oath, or just conveniently ignore and forget that "four year term deal"? Heck, just this year, Bill Clinton outed himself and spouted off in public about increasing presidential term limits! It really doesn't matter, Bill, because we all know that democrats are going to do what they're going to do, anyway. And, Democratic Presidents are going to say whatever, whenever, to whoever, until… well, look at Jimmy!
Jimmy Carter's been trying desperately to redeem himself from his abysmal presidency by continually sticking his nose into every thing he can and shouldn't since he left office. That ol' mule hasn't slowed down a bit! And, you can see where it gets him! Just look at the Ethiopian elections he monitored last month for his latest blunder.
And, today it's Bill. After support of President Bush on his War on Terrorism, he decided today to stick it to Gitmo and declare that it should be fixed or shut down! Fix what?… the vents, so urine won't blow in when you wizz? More latex gloves for handling Korans? A better exercise regimen because the prisoners are looking a bit dumpy with the weight they put on? Whiter whites? What?
Maybe it is like Roger L. Simon says and Bill's only talking Gitmo because of the other news that came out today?