VIDEO OF SEPARATIST LEADERS CROSSING INTO PAKISTAN HERE
It may sound like a small step, but not to these people from the looks of things.
Kashmir has hopes for peace after six decades of fighting…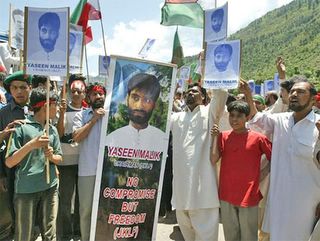 Protesters in support of moderate leader Yasin Malik who crossed into Pakistani territory today. Politicians from Kashmir began a historic trip to Pakistan on Thursday, in a sign that relations between nuclear India and Pakistan are slowly improving.
A number of Kashmiri Separatist Leaders crossed into Pakistan today in what is seen as a significant step towards peace in the troubled region:
A number of top Kashmiri separatist leaders have crossed the Line of Control into Pakistani-administered territory on a landmark visit.
It is the first time India has allowed Kashmiri separatist leaders to travel from territory it administers to Pakistan as a representative group.
The separatists were warmly welcomed by the prime minister of Pakistani-administered Kashmir and other officials.
They have now arrived in Muzaffarabad, the capital of Pakistani-administered Kashmir, where they will hold talks with Pakistani officials as well as local Kashmiri representatives.
Many people came on to the streets to see the leaders arrive.

Moderate Kashmiri Leader Yasin Malik is cheered as he leaves on his historic trip.
Today there was much hope for peace in a region that has been fighting for six decades:
Doves were released as leaders of the All Parties Hurriyat (Freedom) Conference walked across a newly constructed "Peace Bridge" into Pakistan's part of the Himalayan territory after traveling by bus from Srinagar, Indian Kashmir's main city.
"A very huge process is in place. I think we have to move forward. I am in Kashmir, I left home and I have arrived home," Abdul Ghani Bhat, a senior Hurriyat leader, told journalists on the Pakistani side of the bridge.
Thousands of people lined the route, waving banners and flags as the visitors were taken aboard a heavily guarded bus to Muzaffarabad, the capital of Pakistan's part of Kashmir.
No breakthrough was expected, but the Kashmiri leaders hope their visit will mark the start of a three-way dialogue between India, Pakistan and themselves to help untangle the dispute.
India had previously refused to allow the separatist politicians to visit the Pakistani side of Kashmir.
India says more than 45,000 people have died since a revolt against New Delhi began in Kashmir in 1989, and the region has been at the center of two of the three wars India and Pakistan have fought since winning independence from Britain in 1947.

Separatist Leader Umar Farooq waves to supporters on Friday.
Nine moderate separatists traveled Thursday to the Pakistani side of Kashmir, on their first trip to the country in decades. The delegation hopes to promote an end to the lingering crisis over Kashmir, which has been the cause of two of three wars between India and Pakistan since their independence from Britain in 1947.
Senior Hurriyat leader Abdul Ghani Bhatt said the delegation would be travelling "with determination and a message of love".
Asked whether they would meet Kashmiri militant leaders, he replied, "We will meet them. They are our own boys, our own flesh. We want to contribute positively to the peace process."
Shabir Shah, who heads the Democratic Freedom Party, told AFP he had been forced to drop out of the historic trip after the Indian government denied him the necessary travel documents. He would be represented by his deputy, Mohammed Abdullah Tari.
In the past India has refused to allow most separatist leaders to visit Pakistan. It gave the green light for this trip after Pakistan last week invited Hurriyat, made up of two dozen political groups, as well as other prominent leaders seeking Kashmir's merger with Pakistan or independence.
Hardliners have refused to go. They are angry over what they see as Pakistan offering too many concessions to India over Kashmir without anything in return from New Delhi.
Also, from the Kashmir Times Musharraf is confident of resolving the crisis:
Pakistan President Pervez Musharraf is confident of resolving the Kashmir issue before 2007.
"Nobody is permanent. (India's) Prime Minister ManmohanSingh is not permanent, I am not permanent. We have reached so many agreements and declarations (in the past) and ended up having another war and conflict. If we brush the main element under the carpet, we will end up in the same way again. Since I have a very good understanding with Singh, if we can do it now it's better. I wonder whether the same relationship will continue in future leaderships," he told the Financial Times.
Update: (Friday AM) Glenn Reynolds, the Instapundit, has linked here. And, from the sound of the comments, the people in the video clip are not the only ones who get worked up over the Kashmir Region of India. Let's hope that this beautiful region finds peace.
Update 2: (Friday PM) Patrix at Nerve Endings Firing Away comments on this news, as does Ashish's Niti and Varnam. Patrix was in attendance at BlogNashville and is up on many things, including Indian affairs.