With each passing day, the disastrous conditions in Zimbabwe grow more severe.
Police arrested nearly 10,000 street vendors this week in a crack down on street trading, the livelihood of thousands of its citizens…
Advertisement - story continues below
Paramilitary units armed with batons, riot shields and tear gas patrolled main roads in Harare Monday as police warned they would not tolerate protests against their crackdown on street trading – the only livelihood for thousands of poor township dwellers.
Police Chief Superintendent Oliver Mandipaka said 9,653 people were arrested in the five-day blitz on street vendors, flea market stalls and other informal businesses.
He said people were preparing to demonstrate but that police were ready and commuter minibuses were prevented from entering the city centre.
TRENDING: EXCLUSIVE: Amazon Is Censoring The Gateway Pundit Writer Joe Hoft's Latest Book "In God We Trust: Not in Lying Liberal Lunatics" ... UPDATE: Amazon Just Removed Censorship!
Angry demonstrators clashed with police over the weekend in the most serious unrest since President Robert Mugabe's ruling ZANU-PF won a landslide victory in March 31 parliamentary general election, widely condemned by Western governments for alleged rigging and intimidation. Mugabe, 81, has been in power since independence in 1980.

The "Former" Breadbasket of Africa
Advertisement - story continues below
Human Rights Activists in Zimbabwe are condemning the arrests:
The clampdown has elicited retaliation from some traders, who fought running battles with police.
Law enforcement officers found themselves on the receiving end of a barrage of stones when the residents of Chitungwiza, a satellite town 35km from Harare, resisted attempts to demolish their informal 'tuck-shops' at the weekend.
Otto Saki, a project officer with Zimbabwe Lawyers for Human Rights (ZLHR) said it was unfortunate that the police had allegedly used strong-arm tactics to tackle small-scale traders, and ZLHR had met with representatives of the street traders to help them challenge the police action in court.
The leader of the main opposition Movement for Democratic Change, Morgan Tsvangirai, alleged that the clampdown on vendors was the ruling party's retribution for the opposition having maintained its control of urban areas in the 31 March parliamentary elections.
Advertisement - story continues below
"It is unfortunate that a government that claims to have been legitimately elected by the people can descend on its own citizens with such brutal force – it does not make sense to shut down the informal industry, because that is the main form of trade left in the country: the economy has been mauled," Tsvangirai told IRIN News.
Editorial cartoonists Cox and Forkum (see above), note in an article from the News Telegraph that White farmers reject Mugabe plea to return
"I would love to go back but the economy's in ruins. The place is a shambles. So many professional people have left. It would need a new regime before most of us would think seriously about going back. "
Those who took over the farms had no specialist knowledge – and most farmland now lies uncultivated. The machinery has been stolen, buildings have been plundered and the former workers are starving.
Advertisement - story continues below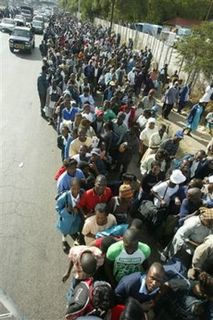 As the country plunges into economic crisis workers in Harare, Zimbabwe face long lines at the bus stop.
The UN is sending a delegation to the country to assess the food supply situation:
A special United Nations envoy is to visit Zimbabwe this week to assess the country's critical food situation.
It is not clear what reception James Morris, director of the World Food Programme (WFP), will get from the Zimbabwean president, Robert Mugabe, who curtailed UN food distribution last year.
Advertisement - story continues below
Mr Mugabe said last week that he would accept UN food aid, so long as it came with no political conditions.
by Elliot Pfebve
I ASK for your divine intervention in Zimbabwe. I have come to understand that we Zimbabweans lack the righteous capacity to unshackle the chains of bondage we now find ourselves in.
Advertisement - story continues below
My Lord the churches in Zimbabwe remain divided deliberately or otherwise. The only man of the cloth worth mentioning in Zimbabwe is Pius Ncube (pictured at left of this page in the side bar dressed in purple carrying the cross) who remains focused. I pray that you give us more Pius Ncubes and arm them with your hand of supremacy to deliver THY KINGDOM. In case you have forgotten us, more than a quarter of us Zimbabweans live in the Diaspora where we suffer trauma due to lack of identity and decadence of social fabric.
Zimbabweans remain among the most educated on the land, most courageous, most resourceful, most skilful yet most oppressed.
Our problem, my Lord, remains shameful, that those who first cross the line of power immediately close the doors behind them. In unwittingly closing the doors, they close the doors to the voice of reason.
Finally, my Lord, I beg you to use your powers to descend on Zimbabwe and curse the tyranny. Zimbabwe remains our only Promised Land generation after generation, unfortunately Mugabe sees himself as all generations wrapped into one. How on earth can this be allowed. I offer myself, body and soul, to be used by the Holly Spirit to deliver salvation to the people of Zimbabwe, through you my Lord can this be done.
Advertisement - story continues below
So, is this a single prayer of a single man?
Or, is this the cry of a nation?
Update: (Tuesday AM) Glenn Reynolds, the Instapundit, is giving voice to this tragic news this morning.
Update 2: (Tuesday PM) Welcome, Canadians, from the Western Standard!