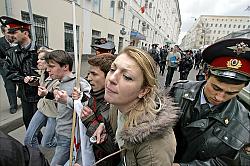 Protesting in Moscow for the imprisoned in Minsk.
Well, not exactly the rescue, but he did speak up for the detained Ukrainians in Minsk.
Viktor Yushchenko demanded the release of the 5 Ukrainian youth still jailed in Belarus for a protest rally last week:
Ukrainian President Viktor Yushchenko accused Belarus of employing a double standard Wednesday after a court released 14 Russian pro-democracy activists who were detained during an opposition rally in Minsk but refused to let five Ukrainians go.
Pro-democracy activists and their supporters, meanwhile, rallied outside the Belarussian embassies in Moscow and Kiev on Wednesday to protest the continued detention of the five National Alliance youth movement activists.
While over in Moscow today, 6 youth protesters were arrested at the Belarus embassy for an unsanctioned protest demanding the release of the Ukrainians as well:
Six activists of the Union of Rightwing Forces (SPS) and Yabloko parties have been detained in the Russian capital for an attempt to hold an unsanctioned protest rally at the Belarussian embassy, the city main police department told Itar-Tass on Wednesday.
A group of young people began the demonstration at 14:00 pm, Moscow time, unfolding placards with the demand to free Ukrainian and Belarussian citizens placed in a detention facility in Belarus for participation in the Chernobylsky Shlyakh (Chernobyl Path) action. There were 25-30 protesters participating in the rally.