UPDATES ON THE UZBEK SITUATION WITH VIDEO HERE AND HERE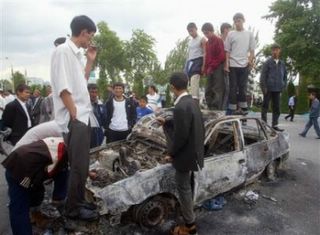 Protesters stand on the wreckage of a car after violent protests in Uzbekistan
At least 9 and as many as 20 protesters were killed in Uzbekistan today when police opened fire on a crowd:
Advertisement - story continues below
Outrage over the terror trial of 23 Muslims exploded into broader unrest in eastern Uzbekistan on Friday when armed protesters stormed a jail to free defendants, clashing with police in violence that brought thousands of protesters into the streets. At least nine people were killed and dozens wounded, witnesses and officials said.
One protester, who put the death toll as high as 20, said 30 soldiers were being held hostage because they were shooting at demonstrators. Two of the dead were children, Sharif Shakirov, a brother of one of the defendants told The Associated Press.
TRENDING: BREAKING: Joe Biden and Barack Obama's Twitter Accounts HACKED... Along With Jeff Bezos, Bill Gates, Kanye West and MORE
President Islam Karimov and other top officials rushed to the eastern city of Andijan, where the government insisted it remained in control despite the chaos, though it blocked foreign news reports for its domestic audience.
The unrest prompted neighboring Kyrgyzstan and Kazakstan, former Soviet republics like Uzbekistan, to seal their borders.
Advertisement - story continues below
"The people have risen," said Valijon Atakhonjonov, a brother of another one of the defendants.
Karimov's office said nine people were killed and 34 wounded in clashes between protesters and security forces.
Armed protesters stormed the prison early Friday, officials and witnesses said. All 23 defendants — prominent businessmen accused of terror ties and Islamic extremism — were freed, said defendant Abduvosid Egomov, 33.
AFP is reporting other developments including a suicide bomber stopped outside of the Israeli Embassy:
The US embassy in Tashkent meanwhile reported that a suicide bomber had been shot dead outside the Israeli embassy and local media said an attempted attack on the embassy had been thwarted.
Advertisement - story continues below
"Insurgents took over the regional administration building and the high security prison, it is not clear who is in charge of the town," Saidjahon Zainobidinov, spokesman of the Appelatsia rights group, told AFP from Andijan.
More than 2,000 inmates were released from the prison and a cinema and theater were torched, he said.
Key buildings were in the hands of the insurgents, including the regional and city administration buildings, the Centrasia.ru Internet site reported, quoting its local correspondent in Andijan.
The bodies of two people lay covered in blood in front of the local office of the national security service and there were reports of continued shooting.
Advertisement - story continues below
"It's not clear whether they are the bodies of protestors or law enforcement agents," Centrasia.ru said.
"The police have disappeared from the streets and the special forces have come to Andijan."
Uzbekistan's hardline president, Islam Karimov, was travelling to the city and was expected to make a statement on state television later Friday, according to a presidential press spokesman.
Nathan at the Registan who is the expert on Central Asia had this to say late last night:
Advertisement - story continues below
I should point out this recent BBC story in which protesters were talking about the importance of peaceful protests. The gunmen could have been from the protesters or they could be militants taking advantage of the situation (some of those violent schismatics from the ranks of Hizb ut-Tahrir perhaps?). It's too soon to be sure of anything.
The US Embassy is saying that Andizhan is completely closed.
Authorities have suspended Russian radio and television services.
The government said on Friday that the situatin is under control:
Advertisement - story continues below
"The situation in Andizhan is fully under control. No state of emergency was imposed in the town. Government offices, marketplaces and educational institutions are functioning," it said.
"No unauthorized rallies are being held in the center of the city," the press service reported.
Police squashed a rally last week outside the US Embassy.
Update: (7:00 AM) Welcome Insta-readers!… As expected, Nathan at The Registan is all over this. Nathan covers this story like no one… including the MSM!
Advertisement - story continues below
Update #2: (7:15 AM) Robert Mayer from Publius Pundit has posted more information on the situation which could get really ugly.
Update #3: (Friday AM) Word is coming out now that at least 50 may have been killed as police started firing on the surrounded protesters.
Update #4: (Saturday AM) Much more at the Registan here and a video clip in a new post, here.