The likelihood of Civil War in Togo is now being talked about as unrest continues:
"The infrastructure for civil war in Togo is already in place," said Emmanuel Anin, a political analyst for African Security Dialogue and Research, based in neighboring Ghana. "I fear the situation will only get worse before it gets better."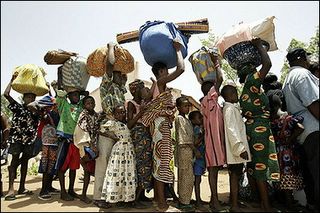 Togo refugees flood a Catholic Mission in Benin. (AP)
The dictator's son, Gnassingbe Eyadema, was declared the official election winner on Tuesday and is to be sworn in as president.
The Opposition, though vows to fight on:
An opposition leader in Togo called for popular resistance on Tuesday after the West African country's constitutional court confirmed the ruling party's candidate as winner of a disputed presidential poll.
Jean-Pierre Fabre, secretary-general of Togo's biggest opposition party, said the opposition would not take part in a national unity government with Faure Gnassingbe as president.
"The instruction to our supporters is popular resistance. We will give this regime a hard time," he told Reuters.
Estimates of more than 18,500 civilians have fled the war torn country.