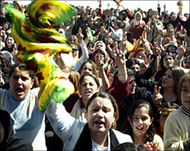 Hundreds of protesters rallied in Syria on Sunday.
Aljazeera reported on a pro-democracy protest in "Syria" earlier this week:
Hundreds of demonstrators have rallied outside Syria's feared state security court, chanting for freedom and demanding an end to the 42-year-old state of emergency.
Advertisement - story continues below
"Long live liberty," the protestors on Sunday chanted in Arabic and Kurdish as the trials of three Kurdish activists got under way. "We want democracy … End the emergency laws".
The authorities dispatched 15 riot police to the courthouse, but they did not intervene.
TRENDING: Two Women Activists Hit by Car on I-5 Outside Seattle -- Suffer Serious Injuries After Hitting Windshield and Front Grill
Placards brandished by the demonstrators demanded the release of political prisoners, many of them members of Syria's 1.5 million-strong Kurdish minority.
Amazing!
Advertisement - story continues below
Meanwhile, Condoleezza Rice continued to crank up the pressure on Syria while in Iraq this week:
Secretary of State Condoleezza Rice on Monday appealed to Syria's Arab neighbors to pressure Damascus to close its borders to foreign militants seeking to join the Iraqi insurgency.
She blamed Syria for complicating the new Iraqi government's efforts to quell violence. The U.S. military contends Iraq's remote desert region near Syria is a haven for foreign combatants who cross the frontier along ancient smuggling routes and collect weapons to use in some of Iraq's deadliest attacks.
"We're going to go back and look again at what the neighbors can do to get the Syrians to stop support for these foreign terrorists who we believe are gathering on Syrian territory and coming across," Rice said. "Their unwillingness to deal with the crossings of their border into Iraq is frustrating the will of the Iraqi people" and leading to deaths of innocent Iraqis, she added.
Rice suggested she will try to capitalize on momentum from Syria's withdrawal of its troops from Lebanon this spring.
Advertisement - story continues below
"The Syrians are under a lot of international pressure now because of Lebanon," Rice said. "And the reason that the Syrians are under pressure is they are really out of step with the rest of the region."
The Assad Government in Syria must be feeling the heat as it looks at political reform:
Beset by U.S. attempts to isolate his country and facing popular expectations of change, Syrian President Bashar Assad will move to begin legalizing political parties, purge the ruling Baath Party, sponsor free municipal elections in 2007 and formally endorse a market economy, according to officials, diplomats and analysts.
Assad's five-year-old government is heralding the reforms as a turning point in a long-promised campaign of liberalizing a state that, while far less dictatorial than Iraq under Saddam Hussein, remains one of the region's most repressive. His officials see the moves, however tentative and drawn out, as the start of a transitional period that will lead to a more liberal, democratic Syria.
Advertisement - story continues below
Update: Glenn Reynolds at Instapundit quotes Jonah Goldberg as claiming that "the rush of democratization has reached the point where this isn't even treated as as big news!"
Update 2: Athena has more on the protest.