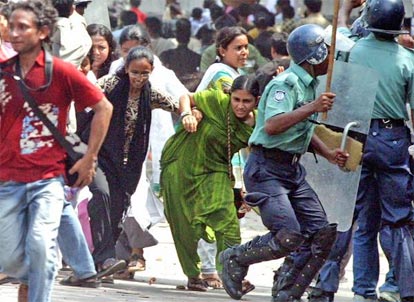 Protesters run from police during Dhaka student protest.
Several students hurt after police break up their demonstration at a Bangaladashi university:
At least 50 people were injured when students at the main university in the Bangladeshi capital Dhaka battled police and damaged vehicles on Saturday after a female student was killed in a road accident.
Police used batons and fired blanks and teargas shells to disperse hundreds of stone-throwing students who set several vehicles on fire and damaged dozens of others, witnesses said.
The city's Shahbag area, in which two large hospitals are located, "turned into a fierce battle zone for hours after the girl was crushed under wheels of a speeding bus near the Dhaka University campus," a Reuters witness said.
"Waves of students came out of the university and started a rampage, forcing the hospitals to close their gates with panicked patients and visitors stranded inside," Reuters Television cameraman Rafiqur Rahman said. Students blamed police for the accident.
"This accident was partly due to negligence by traffic police, who often ignore rash driving by the buses," a student leader said.