Having a Grand 'Ol Time in Nashville!

The net's finest at editorial cartoons- Cox and Forkum (Cox on left)

The "Great One" Glenn Reynolds who is like a rock star here (or maybe country star would be more appropriate considering the venue) with the great combo of Scared Monkeys Tom and Red (Red in middle)

Matthew Sheffield from RatherBiased fame… so young snd so talented!
Advertisement - story continues below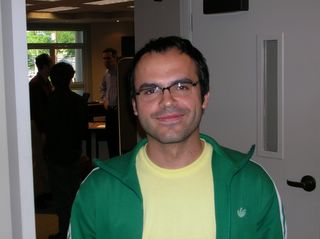 They call him the "Iranian Blogfather" since he is reponsible for bringing blogging to Iran. Hossein Derakhshan is now running Editor Myself among other things. He's looking at a move to New York, Slant Point.

One of the pioneers and all time greats of blogging, Bill Hobbs, was on the media panel tonight for a very interesting discussion on new and old media.
TRENDING: BREAKING: Joe Biden Vows to "Ban Assault Weapons" in the US

La Shawn Barber is packing a lot of power in her conservative "corner". She is leading a session tomorrow on Faith-Based blogging.

The "Great One" and awestruck me in Psychedelic Mode. This photo reminds me of the time I met Frank Zappa and was so excited that I couldn't speak. Just kind of stood there like a raccoon in the headlights. I wonder if it was obvious to Glenn that I'm one of those blogger groupies? I hope my "Instapundit" tatoo wasn't showing!
Advertisement - story continues below
There is more information on BlogNashville here and more discussion, pictures and comments here.
Update: (Saturday 11:35 Central) Wishing Lorie Byrd from Polipundit was here, but she did link to these pics this morning.