Pakistani Authorities show their deep affection for journalism on "Press Freedom Day"!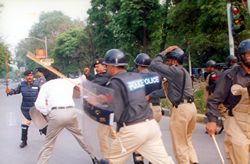 Celebrating the Press in Pakistan!
A Punjab Union of Journalists (PUJ) rally, on its way to the Lahore Press Club (LPC) to commemorate World Press Freedom Day, was baton-charged by the police on Tuesday. Seventeen journalists including a Labour Party activist Nazi Javed were severely injured.
Advertisement - story continues below
The police attacked the PUJ rally, headed from its secretariat at 3-Diyal Singh Mansion for LPC at Charing Cross. In a statement condemning the attack, the PUJ termed it "an attack on journalism" and asked authorities concerned to take action against the police officials involved.