Jimmy Carter gave his "kiss of approval" to the Ethiopian elections earlier this month that later were disputed.
Opposition election officials in Ethiopia were denied refuge from the Red Cross today:
Seventy election observers of the opposition Oromo National Congress, (ONC), in Bedeno and Weter town have sought refuge at the Red Cross in Harer, in eastern Ethiopia.
Advertisement - story continues below
The Red Cross has rejected their request.
A senior ONC official, Ms Almaz Seifu, told The Reporter that the observers sought refuge at the Red Cross fearing for their lives after receiving threats.
TRENDING: Biden Signs 3 Executive Orders: Mask Mandate and Social Distancing on Federal Property, Racial Equity, Rejoins Paris Climate Accord (VIDEO)
She said the Ethiopian Red Cross in Harer had notified the International Committee of the Red Cross (ICRC) about the issue, but the ICRC rejected their request saying that it could only provide assistance to victims of conflict and natural disasters.
Information we obtained from the area indicate that the ONC observers had revealed their grievances to a team of EU election observers in the area after the Red Cross rejected their request.
Advertisement - story continues below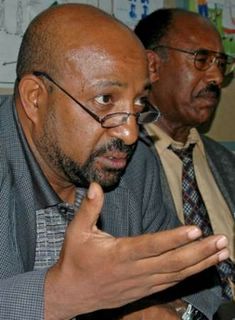 Oppostion Leader Berhanu Nega (L) and chairman Hailu Shawel call for re-elections in at least 37 constituencies across Ethiopia on May 16th. A revote was taken yesterday (May 22) in 6 of the disputed districts.
The Ruling Party leads the elections after preliminary results were announced today:
The National Electoral Board of Ethiopia (NEBE) said Sunday it has received preliminary election results of 73 constituencies in various states, with the ruling party taking the lead.
NEBE said in a statement that the ruling Ethiopian People's Revolutionary Democratic Front (EPRDF) had the upper hand in 37 constituencies in Tigray, Amhara, Oromia and South Ethiopia People 's states.
It added the major opposition Coalition for Unity and Democracy (CUD) has emerged victorious in 22 constituencies in the capital Addis Ababa and other eight constituencies in various states.
Advertisement - story continues below
Ethiopians went to poll on Sunday in the country's two separate elections to elect representatives to the 547-seat House of People 's Representatives (HPR) and eight regional councils. Elections in southeastern Somali state will take place in August.
A revote was taken in Ethiopia, yesterday after alleged fraud in the first round:
Fresh ballots were held in Ethiopia on Sunday for six disputed seats after candidates alleged fraud in the May 15 polls, the electoral board said.
The Ethiopian Election Board has said it is investigating charges of major voting fraud levelled by the ruling party and the opposition in the second set of real multiparty elections to be held in Africa's top coffee grower.
Advertisement - story continues below
Robert Mayer at Publius Pundit put some thoughts together earlier in the month on the political scene in Ethiopia.