Meera- Pakistani Starlet, Peace Activist, and Lip Locker
Progress of late has eased tensions some between the nuclear giants Pakistan and India. However, this does not come without controversy. Pakistani starlet and peace activist Meera is in hot water over her forbidden "kissing scene" in a yet to be released Bollywood film:
She is beautiful. She is precious. She is glamorous and pride of South Asian Cinema. Her passionate lip locked kiss was a symbol of new India Pak romance. It caused a lot of fire and the whole world is waiting to see her kiss Ashmit Patel!
Advertisement - story continues below
Kiss Miss or Missed Kiss? Meera admits she doesn't know. While looking forward to the May 20 release of Nazar, the Pakistani actress says she has no clue if her stormy lip-lock still forms part of the film.
Meera is hoping to become the first India-Pakistani Star!
TRENDING: "Look at Your Boyfriend's Face!" -Unhinged Woman Throws Coffee on Two Men for Not Wearing Masks - Boyfriend Gets His Ass Beat Bloody (VIDEO)
"I have got a lot of love from the audience of this country," said Meera. "That, coupled with my audience in Pakistan, means I have been able to win hearts on both sides of the border."
"That, I think, is my greatest achievement and I want to continue to do that," said Meera whose smooch with co-star Ashmit Patel in Bhatt's Nazaar got her into trouble with fundamentalists in Pakistan and subsequently made headlines in India.
Advertisement - story continues below
She was deported from Delhi airport for failing to produce the required papers and then dramatically recalled when the Bhatts intervened with the government.
Meera then, along with Bhatt, joined scores of peaceniks for a march along the India-Pakistan border.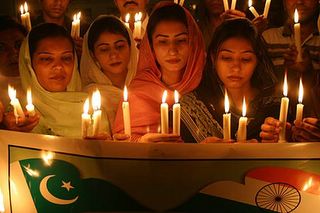 Pakistani Peace Activists Welcome Indian Delegation
Indian and Pakistani activists met in Multan yesterday:
Pakistani peace activists welcomed the Indian delegation in Multan on Tuesday, May 10, 2005. Twenty-two Indian peace activists started their peace march last month from the shrine of Muslim Saint Nizamuddin Aulia in New Delhi to the shrine of Saint Bahauddin Zakariya in Multan after revived hopes for peace between South Asia's nuclear rivals.
Advertisement - story continues below
Also, today the two nuclear neighbors announced "bus service" between the countries to ease strained relations:
Nuclear neighbors Pakistan and India were set Wednesday to announce a new cross-border bus service – their latest step toward easing decades of hostility, an official said.
Transport officials began two days of talks in Islamabad on Tuesday to finalize when the proposed link between the eastern Pakistani city of Lahore and the northwestern Indian city of Amritsar would start and how often it would run.