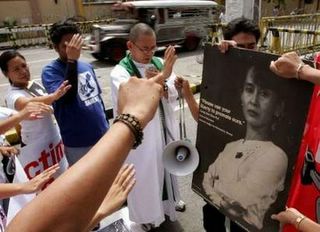 Filipino Priest Robert Reyes says mass for the release of Myanmar's opposition leader Aung San Suu Kyi outside the presidential palace in Manilla on Monday, May 30th..
Myanmar officials did release a young mother and her baby this week after they had been detained since last year when she went to visit her husband, Opposition Leader Tan Jun, in jail.
High Court Judge K.P. Gengadharan granted a habeas corpus order to release Faridah [email protected], saying he was satisfied that there were procedural flaws in her detention under the Dangerous Drugs (Special Preventive Measures) Act 1985. He did not say what these flaws were. His decision was the culmination of a dramatic day in court.
Lawyer R.R. Mahendran (picture) said that his client was detained at the gates of Simpang Renggam Prison on Sept 17 last year when she went there to welcome her husband, who was being released from detention.
Azizah's husband, Myanmar national Tan Jun, was released and subsequently deported, while police detained her with her baby, just a month old at the time.
(I am following the spelling from the news article of "Philippines")