General Richard Myers and "Rolling Thunder" roar into DC where Myers addressed the "Gulag Charges" from earlier this week…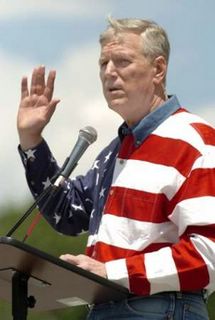 General Richard Myers at the Rolling Thunder Rally.
VIDEO OF HISTORIC STOPS IN THE CAPITAL HERE
"Rolling Thunder" roars into the capital…
Advertisement - story continues below
Bikers from across the nation have converged on the nation's capital for Rolling Thunder. The event has been held on Memorial Day weekend each year since 1988. About 300,000 motorcycles and a half million riders took part last year.

Rolling into DC for the annual "Rolling Thunder" Memorial Day Rally.
TRENDING: President Trump Makes Cryptic Remark at Ohio Speech: "I Have a Lot of Enemies...This May Be the Last Time You'll See Me for a While"
The parents of the only U-S soldier listed as missing and captured in Iraq are on hand for today's annual Rolling Thunder rally in Washington. The event is in support of veterans. Keith Maupin's mother says it touches her heart to hear people's caring and sincerity.

A biker takes position in defense of Donald Rumsfeld who spoke at the Rolling Thunder Rally in Washington D.C. on Sunday.
Advertisement - story continues below
The riders have an event filled day:
* A ceremony was scheduled for noon at the Tomb of the Unknowns at Arlington National Cemetery.
* From there, the rumble of thousands of motorcycles edged closer to the nation's capital.
* The annual wreath laying ceremony at the Vietnam War Memorial is set for 1 p.m.
* A musical tribute to veterans at the Lincoln Memorial then follows.
Advertisement - story continues below
* Paul Revere and the Raiders, Nancy Sinatra, Bill Medley and Gordon Painter and Homeland are scheduled to perform.

General Myers with wife Mary Jo riding into the capital.
Besides riding his bike…
General Myers had time on Sunday to address the charges by Amnesty International:
AMERICA'S top military officer, General Richard Myers, has slammed as "absolutely irresponsible" a report by Amnesty International describing the US detention centre at Guantanamo Bay, Cuba, as a "gulag".
Advertisement - story continues below
In a report released last week, the international rights group called the Guantanamo prison camp, where hundreds of foreign terror suspects are held indefinitely, the "gulag of our times", referring to the notorious prison camps of the Soviet Union.
Asked to respond to that charge on American TV's Fox News Sunday, Gen Myers replied: "I think it's absolutely irresponsible. It is … essentially a model facility."
Here is more of General Myer's interview.