700 Year Old Sufi Shrine in Kashmir Set Ablaze
In the Kashmir Region of India on Monday:
A 700-year-old shrine of a revered Kashmiri Sufi saint in Aishmuqam area of Anantnag district was set ablaze by unidentified persons, sources said today.The shrine of Hazrat Zainuddin Reshi at Pendabal in Aishmuqam area was set on fire on Monday night, the sources said.
Armed with weapons, the accused allegedly chased away the custodian of the shrine and other staff present there before setting it on fire, they said.
Deputy Inspector General of Police (Anantnag range) Shiekh Owais Ahmad said a police party had been despatched to the area to probe the matter.
This would take some as the shrine is located in a remote area, he said.
The shrine is believed to be the first halting point of the Sufi saint who has places of worship named after him across the Kashmir valley.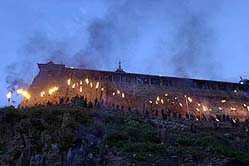 Annual Torch Light procession at the Shrine