Tymoshenko, "Model" Politician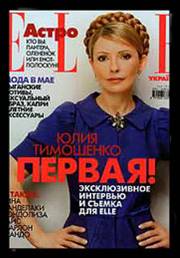 Ukrainian Prime Minister Sports Her Trademark Hairdo on Elle
The China Daily reports that this month Ukrainian Prime Minister Yulia Tymoshenko has appeared on the front cover of Elle magazine in Ukraine posing in a designer dress.
Mrs Tymoshenko played a key role in the "Orange Revolution", her plait hairdo making her a distinctive figure.
Interviewed by Elle Ukraine, she said she was making full use of her looks in the male-dominated world of politics.
Mrs Tymoshenko told Elle that her looks were all natural as she had no time for beauty treatments.
"I am going to disappoint your readers but I am not doing anything special for my appearance. After working 16 hours a day, all I have time for is sleep," the Ukrainian politician said.