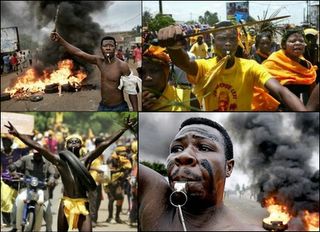 In Togo, Get Your Whistle. It's Time to Protest!
I noticed last week something a bit different about Togo protest and election photos… an overabundance of whistles! I thought it unusual to see so many protesters in Togo not shouting, but whistling. Not that I have anything against a good "whistle", mind you. Anyway, what I wanted to say is that it reminded me of being trapped in a dream where you are fighting your way out of a gay disco with all of the whistles and smoke, but I won't say that in case somone may feel offended or may be employed at a whistle factory…
Anyway, to update on the volatile situation in Togo…
Advertisement - story continues below
First from Africa News on the likelihood of the Son being dethroned by the Opposition:
World focus on Togo today is not coincidental. Neither is it accidental. Following the forced reversal of what was widely referred to as a constitutional coup by Faure Gnassingbe, global attention is understandably tuned on the tiny West African State.
TRENDING: Radical Democrat Rep. Ilhan Omar Calls For "Dismantling" of US "Economy and Political Systems" (VIDEO)
They would be hoping to turn the table of their political destiny for good. Indeed, such optimism cannot be said to be misplaced. Togolese people can naturally expect that the global coalition of contempt that greeted Faure's ill-fated adventure to step into his father's big but unfanciful shoes would crystalize into support for popular democracy to take hold in their country. It is however, not likely that Faure will lose an election in which he is virtually pulling all the strings.
The Interior Minister was ignored with his warnings:
Advertisement - story continues below
A call by Interior Minister, Francois Esso Boko, through a press conference late Thursday night, for the suspension of yesterday's polls, with the warning that Togo was heading for a "suicidal electoral process," judging from the level of the violence that had characterized the campaign till then, was scoffed at by his principals, who swiftly dismissed him.
For a person in charge of internal security, that caution should have been taken very seriously. However, his prescription that an opposition leader be appointed prime minister of a transitional government to rule for one to two years, while a new constitution was drawn up, would clearly have seen him a casualty in any other African country.
And, so as of Monday evening US time we are left with the agreement that the Opposition and the government made to work together:
Nigerian President Olusegun Obasanjo announced Monday that Togo's two main political rivals have agreed to form a unity government, no matter who wins the presidential election. Election results are expected to be announced Tuesday. Mr. Obasanjo hosted the talks after violence in Togo broke out following Sunday's presidential polls.
The results of Sunday's vote are expected to be made known Tuesday.
Advertisement - story continues below
The transition to democracy will be guided by help from regional states:
Togo's transition to democracy will be monitored by a committee under the chairmanship of the African Union, bringing on board Togolese parties, the 15-nation Economic Community of West African States (ECOWAS) and ambassadors from central and western African countries.
And…
Six US embassy teams along with 150 ECOWAS personnel had observed the poll and were making their assessments.