Wash U Protesters on Hunger Strike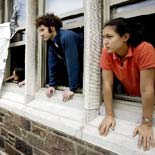 This ain't Kyrgyzstan!
Washington University students Nikhil Kothegal (center) a sophomore from Cincinnati, Ohio, and Sam White, a sophomore from San Francisco, California take time from their hunger strike to peer out a classroom window. (Post Dispatch News)

While students is Egypt, Russia, Lebanon, Kyrgyzstan, Belarus, protest for democratic reform, the students at Washington University in St. Louis are protesting for socialist reform.
The university on Monday ordered students to disperse and notified them that they were violating the university's Judicial Code. The code carries sanctions from a warning to expulsion.
Instead of disbanding, the students called for a hunger strike in support of higher wages for some campus workers.
Advertisement - story continues below
The student leader of the protest had this to say today:
Danielle Christmas, a senior from Trinidad and Tobago and one of the founders of the Student Worker Alliance, said it was "highly hypocritical" of the university to order students to vacate South Brookings Hall and the Brookings Quadrangle.
TRENDING: California to Release 18,000 Prisoners by End of August to 'Slow the Spread of COVID-19'
Students have erected more than 10 tents in the quadrangle where some have been sleeping during the protests.
"At first they said it was OK to sit-in, and all of sudden now it is wrong. We are not willing to leave," said Christmas, who, with 13 other students, went on a hunger strike on Monday night.
Advertisement - story continues below
"This is institutionalized classism and racism," she said, adding that most of those paid the low wages were Latinos, blacks and refugees.
The university has made some concessions already:
The administration offered to contribute $500,000 more toward workers' wages, starting in July. The university also offered to meet with service contractors to discuss improvements, including health care.
Protester Nikhil Kothegal, 20, of Cincinnati, said the university's offer was less than a quarter of the $2.4 million needed to pay those workers a living wage for a year. Kothegal said the university did not want to negotiate with the students. "We are prepared to go all the way," he said.
While the protest has pitted students against the administration, it also has created a rift among students. Sam Gaynor, 19, of Boston, said: "A lot of students don't support what is happening. The university is not a charity case. It is paying above the fair market rate. This is damaging the image of the institution."
Advertisement - story continues below
Gaynor said the SWA should deal with deeper issues and help workers with immigration issues, training and education.
The SWA has proposed that contract workers be paid a living wage of $9.79 per hour and full health benefits, or $12.15 without health benefits. It also demanded that the university only deal with contractors who don't intimidate and harass workers who join unions.
The AFL-CIO has come to the aide of the students:
Advertisement - story continues below
On Tuesday, an AFL-CIO official visited the St. Louis campus to let students know they had the support of the 13-million-member organization.
"We are fully, incredibly supportive and grateful for what the students are doing," said Stewart Acuff, organizing director for the Washington-based federation of labor unions. "More and more workers are working for lower wages and struggling to make ends meet."
The student protesters are demanding that contract workers make a living wage of at least $10.05 an hour with benefits, to allow workers to support themselves and two other people.
So at $390 per undergraduate credit hour, I wonder if there might be some upset parents making an appearance this weekend at the campus "tent city"?
Advertisement - story continues below
In an earlier protest at Washington University during the Vietnam War Era, an ROTC Building was burnt to the ground. One Wash U protester at the time, Howard Mechanic, was sentenced to five years in prison but skipped bail and disappeared. He was caught when running for City Council in Scottsdale, AZ. He turned himself in early 2000.
President Clinton pardoned Howard Mechanic of his anti-war activities before he left office.