The Washington University student protesters end their hunger strike but continue their sit in.
** The students celebrated the end of their hunger strike with a take-out pasta dinner and fruit from a nearby restaurant. On Sunday, their stake-out position was littered with snacks.**
From Monday's Post Dispatch:
Advertisement - story continues below
Washington University student protesters are looking at ways to capitalize on the support that helped bring their chancellor to the negotiating table Saturday night and end their six-day hunger strike.
Chancellor Mark Wrighton agreed to have three meetings this week with the protest group, the Student Worker Alliance, to discuss their fight for better pay, benefits and working conditions for campus workers. Wrighton agreed to the meetings after an afternoon rally on campus had drawn about 160 church and union leaders, politicians, activists and area residents.
TRENDING: BREAKING: Joe Biden Chooses Kamala Harris as VP Nominee - Who Accused Him of Racism
The meetings will be on Wednesday, Thursday and Friday.
"The next three days are extremely important," activist Bill Ramsey said at another rally on Sunday. "We don't want the chancellor to come back on Tuesday night and hear about a fizzle."
Advertisement - story continues below
Ramsey said he was working with the group on ways to keep others involved, such as a continuing prayer vigil involving supporters from various religious faiths.

Bill Ramsey- Anti-War, Anti-Tax and Anti-Bush
Ramsey is the contact person for "United for Peace and Justice" here in St. Louis and has led anti-Bush rallies in the area.
Ramsey is also quoted in Agence-France Presse (AFP) and IslamOnline.net for his refusal to pay government taxes:
Thousands of Americans reported their taxable income to the U.S. government by the deadline Tuesday, April 15. But they included no payment to war taxes.
Advertisement - story continues below
"I can't in good conscience feel that I can take resources that are given to my family to live on and share and give them to other people who will use them to kill people," Bill Ramsey, a human rights activist in St. Louis, Missour, told Agence France-Presse (AFP).
Ramsey, who estimated that between 4,000 and 6,000 U.S. citizens are redirecting their tax dollars this year — from a peak of some 20,000 during the Vietnam War — said in his letter to the IRS that he was refusing to pay "because of the horrific, brutal war the U.S. has been waging against Iraq."
The letter adds: "Because of my fundamental opposition to killing, I cannot willingly pay for the military. Not only do I find the killing of people … morally repugnant, I do not believe such acts protect me or solve problems, whether they be international or domestic."
Ramsey has refused to pay federal income taxes since the 1972 "Christmas bombing" of Haiphong and Hanoi killed more than 1,500 Vietnamese civilians.
Advertisement - story continues below
Ramsey, who protested the War in Afghanistan , was voted Humanist of the Year by the Ethical Society and has been in and out of jail and in trouble with the IRS (Just the person you want to have directing the young students at the university):
Bill Ramsey has been in and out of jail and in trouble with the IRS. He has fasted for 46 days and has given up a job he loved. But hardships such as these are no match for his convictions. "The adjustments we need to make in our lives to advocate for change are pretty small compared with risking your life everyday in Colombia or Guatemala," says Ramsey.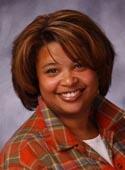 Rep. Maria Chappele-Nadal roughs it at the Washington University tent city.
Rep. Maria Chappelle-Nadal, D-University City, fasted for 32 hours with the protesters and spent Saturday night with them in their tents just outside the admissions office. The legislator told the crowd at Sunday's rally that she was proud of the students. "It's amazing that people in this world and in this city are standing up for what they believe in," she said. "This is a lesson for all of us." (brilliant!)
Advertisement - story continues below
Protester Janine Brito, 21, a senior from Louisville, Ky., said a large showing at Saturday's rally was important in the chancellor's decision to sit down with the group. "It finally made them realize that those in the community support us," she said.