Rice Meets with Belarus Opposition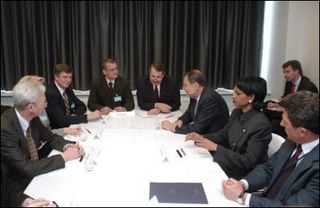 Rice Shows Class with Belarus Opposition Representatives in Vilnius.
In the picture above from right to left: Foreign Minister of Lithuania- Antanas Valionis, US Secretary of State- Condoleeza Rice, European Union High Representative for the Common Foreign and Security Policy- Javier Solana, US State Department interpreter, member of the Council of Civil Initiatives "Free Belarus"- Dzmitry Barodka, deputy Chairman of the United Civil Party- Alexander Dobrovolski, Head of the European Humanities University- Anatoliy Mikhailov
The exciting news for democracy lovers yesterday was the meeting of Secretary of State Condoleezza Rice with Leaders of the Belarus Opposition. This is the first meeting of this kind in 5 years for the US and the brave Belarus Opposition Leaders.
U.S. Secretary of State Condoleezza Rice lent political support Thursday to Belarus opposition members aiming to oust President Alexander Lukashenko. During her three-day trip to Moscow and Lithuania, Rice took aim at the leadership of Belarus, a former Soviet republic that is now an independent country. On Thursday, Rice met with members of the opposition on the sideline of a NATO foreign ministers` meeting in Vilnius. "We think the road to democracy in Belarus, while it may seem difficult and, at times, even far away, there will be a road to democracy in Belarus," she told the group.
The US is pushing for democratic reform in the country and has been critical of the current regime after Lukaskenko's term extension in October…
Briefing reporters after the meeting, members of the group said Rice stressed the importance of a national movement toward democracy.
The United States has been very critical of Lukaskenko`s iron-fisted rule. When he extended his term last October in an allegedly fraudulent referendum condemned by the international community, U.S. President George W. Bush signed the Belarus Democracy Act.
The legislation authorizes U.S. assistance for democratic political parties, non-governmental organizations and media, prohibits U.S. aid to the government in Belarus except for humanitarian goods, and requires the United States to reject loans for Belarus from international financial institutions.
Dzmitry Barodka of Free Belarus had this to say to reporters after the meeting:
"It was not just a formal meeting. One could see that Ms. Rice shows genuine interest in Belarusian issue. Her words of support addressed to us were truly heartfelt."
The exchange of views had lasted for about an hour in a closed session and exceeded the planned limit of time.
"In my statement I said that every year more than 4 thousand politically motivated repressions are registered by us. This figure shows that Belarus is a stronghold of tyranny on the European continent today. But at the same time this figure shows that there are enough people in Belarus who are fighting for freedom of their country. We see Belarus as a free and independent state, and we are ready to pay the costs for that," told Dzmitry Barodka.
He also told how together with the comrades from the Zubr movement he had been taking part in the revolutionary events in Kyiv:
"We were inspired with great optimism. If the peaceful revolution was possible in Kyiv, it is possible in Minsk. We believe in our strength, we believe in our victory, we see Belarus a free and prosperous state in the European family of nations".
By the way, when Barodka was presenting himself, Ms. Rice noted that she knew about the "Free Belarus", which was represented at the meeting also by Svetlana Zavadskaya, one of the leaders of the civil initiative "We Remember".
Condoleezza's classy exit…
Summarizing the results of the meeting, Condoleezza Rice has made a conclusion that four issues are important for Belarus now:
*First is a breakthrough of the informational vacuum in the society.
*Second is to give a possibility for the nation to unite around some important event, around some idea. For instance, around the topic of the disappeared politicians and public figures, as it had happened in Argentine once, where this topic caused the downfall of the regime.
*Thirdly, as Condoleezza Rice underlined, the political opposition is to unite the civil society.
*And fourthly, prior to the elections in 2006 it is necessary to find a candidate who is to become a realistic alternative to the current regime.
– We remember you and we think of you, you are to remain in our thoughts,- she finished.
But, Belarus President Lukashenka was not so upbeat with his comments on Rice:
"I do not have any attitude either towards her or towards her remarks," said Belarusian president. "However, like in any other process, there both positive and negative aspects in that. "It`s good that she knows that there is such a country as Belarus. Maybe she even imagines where it is located."
Meanwhile, back in Belarus, authorities arrest two female activists in Minsk and participants of meeting with Condoleezza Rice were searched at the Belarusian border.
Two activists of "Zubr" movement – Natalia Ushko and Alena Kopach were arrested during distribution of independent newspaper "Vybar". They are kept in Soviet district police station of Minsk now. It's unknown what happens there now: the detained girls don't answer the telephone calls. Girls were detained in the school number 19 of Minsk. Director assistant Ludmila Onifer (snitch), who noticed the girls and immediately called the police.
Publius Pundit had a good posting yesterday on Belarus. There is also more information on Condi's meeting here.