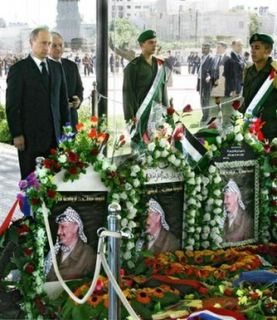 Laying a wreath at Arafat's grave
Russian President Vladimir Putin visited the grave site of the late Palestinian leader and terrorist Yassir Arafat:
Russian President Vladimir Putin laid a wreath on the late-Palestinian leader Yasser Arafat's tomb Friday morning and held talks with Arafat's successor, Mahmoud Abbas, but Palestinians held out little hope for concrete results.
Putin was greeted at the Palestinian headquarters by an honor guard of Palestinian security forces. A military band played a halting version of Russia's national anthem and the Palestinian anthem as Putin and Abbas stood side by side.
Security officers then placed a wreath, with a banner reading "from the president of the Russian Federation," before Arafat's tomb. Putin approached, bowed his head, stood silently at attention for a few seconds, bowed again and walked away.
But, on the phone… chess great and Putin political foe, Garry Kasparov, had harsh words for Putin. He told Israelis to "keep an eye on him"…
In a telephone interview with The Jerusalem Post from Russia, Kasparov, who has retired from chess and is now a political rival of the president's, complained that Putin's regime is trampling on democratic principles and poses a serious threat to the rest of the world. He also said that Putin's reliance on support from ultranationalist forces could spell trouble for Russia's Jews, and he skewered Putin for strategic shortcomings that, he said, could imperil Israel.
Russian sales of missiles to Syria and nuclear technology to Iran, for example, were misguided steps that should worry not only Israel, Kasparov said. Actually, he continued, they were proof that Putin and his regime "just want a short-term profit" and that they "don't think strategically, they can't think long-term."
The Russian president had undermined democratic reforms installed by his predecessors, Kasparov added, citing strict controls on independent media and suggestions that Putin might force an alteration to the constitution that would allow him to remain in office for a third term.
Kasparov also claimed that Putin was not only doing too little to combat the rising ant-Semitism in Russia, but charged that the former KGB officer's government even encouraged and instigated ultranationalist sentiment, with the security apparatus propping up far-right groups.