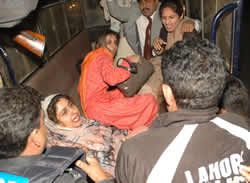 3 Assembly Women Taken to Hospital
Reports of the brutal treatment of PPP members awaiting the arrival of Asif Ali Zardari are being reported including the harsh treatment of women protesters:
Four women members of the Pakistan People's Party, including three provincial assembly members, had to be taken to hospital for treatment after being beaten up by policemen on Saturday, the day PPP exiled Asif Ali Zardari arrived in Lahore.
Advertisement - story continues below
MPAs Azma Zahid Bukhari, Farzana Raja and Faiza Malik, and Muazzama Husnain Zaidi, a party member from Multan, were mistreated by the police in Defence. They were taken to the Race Course Women police station before being rushed to the Punjab Institute of Cardiology for first aid. While the other women were brought back to the police station, Ms Bukhari had to be admitted to Services Hospital as she had suffered more serious injuries. Her father said that the women had been beaten up by Inspector Ashraf Chaddar of the Defence police station.

Assemblywoman Bukhari Hospitalized After Conflict with Police
TRENDING: BREAKING: Joe Biden Chooses Kamala Harris as VP Nominee - Who Accused Him of Racism
PPP leaders are released from police stations:
The Punjab government has notified all police stations of its decision, the report said. It said the PPPP leaders including Chaudhry Aitzaz Ahsan, Raja Pervez Ashraf and Chaudhry Manzoor refused to leave the police stations until all PPPP workers were released.
Advertisement - story continues below
The Nation is reporting that Zardari was put under house arrest after his arrival in Lahore:
The Zardari saga that gripped the attention of the entire country for over one month, reached its expected climax here on Saturday morning when the spouse of Benazir Bhutto was arrested and put under house-arrest alongwith Amin Fahim, immediately after his arrival at the Lahore airport at 7:25 am.
Zardari's counsel not allowed to meet with him:
Asif Ali Zardari's counsel advocate Dr Babar Awan on Saturday could not file petition in the LHC against taking his client in custody on his arrival at Lahore airport as police did not allow him to meet Zardari during court time.
Talking to The News, Dr Babar Awan said he would file the petition on Monday which was likely to be placed before a judge on Tuesday.